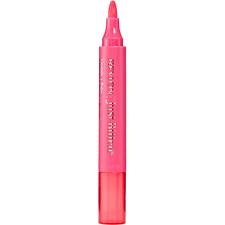 Fictionary is a column showcasing beauty-related words that don't exist, but should.
Tell me I'm not alone with this one.
First of all, I love a lip stain. Lately, I don't like straight-up lip glosses or lipsticks. I ONLY like a balm-esque gloss or a stain/balm combo. I just need BALM in the equation. So when I apply my new fave bargain-priced double-duty beauty item, Revlon Colorstay Just Bitten Lip Stain + Balm ($9), I find myself blowing on my own lips in between my stain application and my balm slick. You know, to dry them thoroughly, quickly–so that the balm doesn't remove the stain. It's a move not unlike the one teenagers did– blowing their bangs up in frustration in the '80s. I sort of do a blow up and one down, to get my bottom lip. I call it Self Blow-thing. It sounds like it means something dirtier than it does.
And tell me: Have you done this? Or am I cra? And stay tuned for next week's Fictionary entry.
Like this post? Don't miss another one! Subscribe via my RSS feed.