Guido Palau has entered my special club of fave British stylists. There are only three in this club: Kevin Ryan, Ben Skervin, and now, REDKEN Creative Consultant, Guido. He's absolutely HILAR. His delivery and inflection is such that he should moonlight as an SNL regular. I caught up with him last week along with some other beauty editors and bloggers. Here's what he shared with us.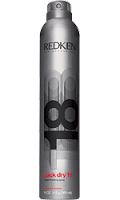 Q: What are the trends for Spring/Summer 2009?
A: It's difficult to define. It's the
antithesis of red carpet hair
. Classic, but with a twist. It was a challenge, but I was able to achieve it with the help of REDKEN products. I was able to redefine textures. For example, at
Prada
I created a classic chignon with
Quick Dry 18 Instant Finishing Spray
and overlacquered it for a more modern look. All the things they say not to do, I did. It's beautiful, but not a look for real life.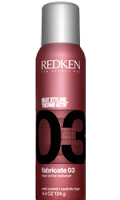 At
Peter Som
, I did a half up half down look. I used
Fabricate
and added some baby powder to craft a matte texture. I love to use products like fashion accessories. That's how you reinvent a classic shape – with products that make them look new to the eye.
A: I love these! They really pop out because of the bright red packaging. These products are dual purposed because they protect hair, but also start to work better with heat. It's a great time for hair because it's not as damaged as it used to be, thanks to products like these.
Q: How do you get inspired to create a look for a fashion show?
A: I've done shows since the early '90s. I've learned by now to create the woman the designer envisions – his or her woman. Within their parameters. I take pleasure in creating a runway look that's inspiring to real women.
Q: What can you tell us about beauty within the last 15 years?
A: The perception of beauty has changed. The whole idea. 15 years ago, grunge was the thing. "Undone" hair has become chic. Perhaps we'll again enter a period of grunge because of the recession. Who knows? I won't get political. Because I don't understand it.
Q: What does your woman look like? The one you envision?
A: I think beauty is in how you WEAR it. It's individuality. When I see someone with the ubiquitous waves with smooth roots, I think, "where are the guts in you?" I admire anyone who's different. When a woman is just… herself. Those kinds of women inspire me. Occasionally, a woman I've seen with tremendous style on the street will pop into my head and I'll regurgitate the look for the runway.
Q: What was your favorite show you've worked on?
A: So many. I love
Prada
for its womanliness.
Louis Vuitton
is very visual with its bags and necklaces. From head to toe, it's so DONE. Very fashion show. I adore
Balenciaga
because… it's Balenciaga. There's always a ponytail. Each girl is part of the ensemble. It's such a vision – impactful. It's not about a real woman.
Ralph Lauren
appreciates the natural beauty of each model – it's not as much about trends. He also sees no need for consistency. Each girl is different. It's a very American view. For Ralph, it's not uncommon to see a girl with her hair down walking behind a girl with her hair in a bun – because that's how she looks best.
Q: Where are you most inspired geographically?
A: London has a love of hair. There, they use it as a way of identifying. It's my favorite "hair place." They'll do something radical with their hair. The city has a sense of arrogance. New York is more conservative. The girls there don't step out quite in the same manner as Londoners do. But then, I become used to the New York look. And I'll go to the airport in London, see people waiting for their families and think… ew. I become used to each city after being there for a while. Nuances are important in each city on the street.

Q: What are your tips with regard to applying product?
A: Don't just STARE at the products and think you'll have hair like Cindy Crawford – USE them. Just because it says it'll add body doesn't mean you don't have to put in any legwork.
Q: When is hair "natural" and when is it simply a mess?
A: It's hard to explain. For instance, on Kate Moss, it almost always works. If you say it works – it will. Confidence is the key to pulling off most styles. It's simply a belief system. Kate Moss PROJECTS that she looks amazing. And she does. For naturally messy (but still "done") hair, I recommend Fabricate, a side part, and a bobby pin. Also, on the beach, doesn't everyone think their hair looks fantastic? It's simply because on the beach, you're relaxed.
Q: Tell us about the Marc Jacobs show. How did you handle doing 70 models' hair?
A: Marc's shows are always somewhat like a pop concert. Trying to do a loose wave on 70 girls, all with very different hair can be challenging. Some turn out great, but other times… you get nothing, or worse: you get the Pussycat Dolls. My advice is to do a tighter curl than you want because it will drop. Don't curl the ends. It's a fine line and trust me – I don't always get it right. Getting the same texture on lots of girls can be a nightmare.
It's kind of like the 60s girls. The cooler ones had just the right amount of bouffant. The cheaper ones were far too ratted up. Now, the cheaper girls have too much curl to their wave. The cooler girls have just enough.