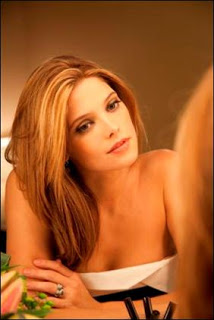 You know I'm on a need-to-know basis re: All things Twilight. I just got the scoop on Ashley Greene's look for her recent Jimmy Kimmel Live appearance. Read on for deets!
mark Brand Ambassador Ashley Greene and star of The Twilight Saga: Eclipse made a spesh appearance on the Jimmy Kimmel Live Twilight Special titled, "Total Eclipse of the Heart." Celebrity makeup artist Vanessa Scali shared her top makeup tricks for creating Ashley's stunning look
Face
"I began by blending mark Get a Tint Tinted Moisturizer Lotion SPF 15 in Buff/Natural all over Ashley's face with the mark Foundation Brush to create a nice, even canvas. Then, I gently applied mark Good Riddance Hook Up Concealer in Light/Medium under her eyes to brighten the eye area, followed by a light dusting of mark Matte-Nificent Oil-Absorbing Powder in Buff/Natural with the mark Powder Brush to eliminate any excess shine. To add a natural looking blush and accentuate her cheekbones, I blended mark Just Pinched Instant Blush Tint in Spicy to the apples of her cheeks."
Eyes
"I started by applying the lighter shade of mark Keep It Going Longwear Eyeliner & Shadow in Entourage all over Ashley's lids, blending upwards towards the brow-bone with the mark Flat Eyeliner Brush. Next, I smudged the darker shade from mark Keep It Going Longwear Eyeliner & Shadow in Entourage into the crease and lightly along the lower lash line with the same brush. I finished off her eyes with two coats of mark Make It Big Lash Plumping Mascara in Raven."
Lips
"For Ashley's lips, I used mark Gloss Gorgeous Stay On Lip Stain in Bare.  This helped her achieve gorgeous color and shine that lasted throughout the segment!"
Natural, fresh and gorge for summer. What say you?
Like this post? Don't miss another one! Subscribe via my RSS feed.