Kate Hudson looked white hot in her new platinum 'do she premiered at the Met Ball this week. Said hairstylist Peter Gray, "(Stella and Kate) always look beautiful. We worked together on these creative looks that didn't appear too pretty – they were more lived in and distressed, yet stunning." Here, the beauty breakdown, in his words.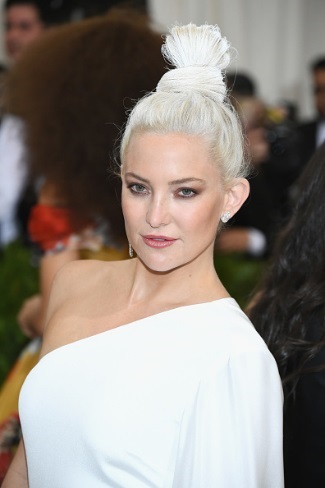 "To prep the hair, I used the Thermal Protect Spray then applied ABBA Volumizing Root Lift Spray on damp hair from mid to end of hair and combed it through with the Cricket Silkomb Rattail Pro-50 to give it more texture and volume.
I used a tiny bit of Blow Dry Lotion mid to end of hair to create a bit of slip I then used the Cricket Copper Clean Paddle brush to smooth hair.
I used the Centrix Q-Zone Dryer to dry hair on low heat and low blow to create texture and a lived-in look, texturizing with the thumb and forefinger and applied ABBA Dry Shampoo to set the hair
Next I took the Ultra Smooth Professional Curling Iron to create diagonal curls and used ABBA Firm Finish Hair Spray as a setting spray.
Once the hair was dry I grabbed the hair from the back, pulled upward into a ponytail using the Amped Up Teasing brush and secured with an elastic. I used an E.V. hair pro human hair weft to add volume and length to the ponytail.
Next, I held the Cricket Silkomb Rattail Pro-50 at the center of the ponytail to create the top knot by wrapping hair around the tail comb.
Lastly, we sprayed talcum powder around the hair line, a ton of ABBA Dry Shampoo and then Firm Finish Hair Spray to seal the look."