Makeup artist Debra Ferullo created this gorgeous makeup effect for Drew Barrymore, whose overall everything was one of my favorites of the night. Here, the beauty breakdown.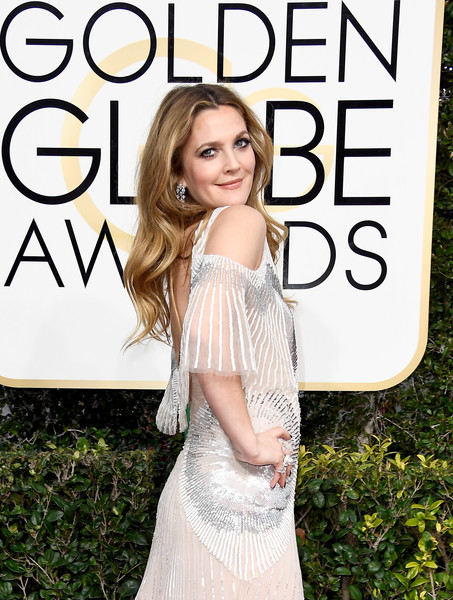 First, use In Your Prime Ultimate Eye Primer on both the eyelid and bottom eye area to create a crease-proof canvas before shadow application.
For eyeshadow, use Shimmer & Shade Eyeshadow Palette in Golden Natural. Utilize the various shades within the palette, applying the darker shades to the crease of the eyelid and using lighter shades on the ball of the eyelid and under the brow bone.
Next, take Forever Wear Liner Long-Wear Eyeliner in Onyx to create a smudged liner look.
Coat lashes with Zoom In Ultimate Mascara, applying to both top and bottom lashes.
For foundation, apply E.E. Erase Everything Foundation all over the face using the brush applicator on the product. For concealer, use D.B. Daily Brightening Undereye Cover Crème under the eyes.
Next, apply Flower Pots Blush in Warm Hibiscus using the Ultimate Blush & Contour Brush to the apples of the cheeks.
To highlight, take the brush applicator included in the Shimmer & Strobe Highlighting Palette and apply highlighter to the cheekbones to create a natural, luminous glow.
Groom brows with the sculpting tool on the Brow Master All in 1 Brow Mascara. Then, use the mascara to add subtle color and tame brows.
To finish the look, apply Color Proof Longwear Lip Crème in Dusty Rose directly to lips from the product tube.