Official Mascara Correspondent Ashleigh Ciucci test-drives Laura Mercier Full Blown Volume Supreme Lash Building Mascara. Is it meh, feh or hells to the yeah? Read on and find out.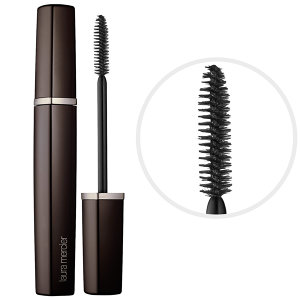 I gotta say: The name of this mascara has given me very high expectations.  As a mascara aficionado, I know volume when I see it, so I was ready to be fully blown away.  One coat of this rich and thick formula goes on pretty tame.  The medium sized basic oblong brush holds quite a bit of product but there isn't a ton of grip and transfer of the mascara.
My lashes were nicely gathered (not clumped) and the ends were tapered and wispy.  With a second coat, my lashes bulked up a bit but still weren't the fullest lashes I've ever seen.  You can get this kind of volume from one coat of Cover Girl LashBlast or Make Up For Ever Smoky Lash.  However, I'm keeping in mind that Laura Mercier's look is a bit softer and because of this, yes this mascara packs some punch.  I was able to get a little more thickness mid-day.  It rinsed easily with soap and water, which is nice.
While it's not the most ridiculously bold and supreme mascara, it's a good choice for a teen or someone who likes a lighter lash touch.
—Ashleigh Ciucci
Buy Laura Mercier Full Blown Volume Supreme Lash Building Mascara at Sephora for $25.