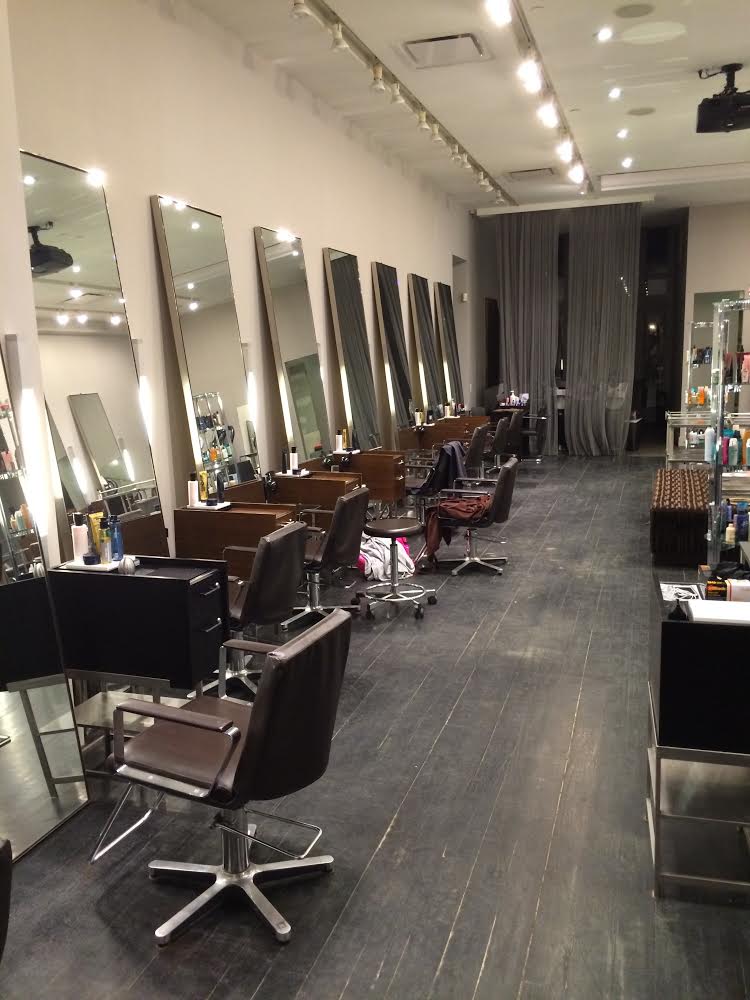 I recently visited Eva Scrivo Salon's flagship location at 50 Bond St for an appointment with colorist Meri Kate. My initial entry to the world of hair color came earlier this year, when I took my virgin locks from totally deep-brunette to a blonde ombré. After a few months of letting the color settle and go through some sun-induced lightenings, I headed over for my appointment in need of an ombré refresh.
You know those people who know you better than you know yourself? That's exactly how I feel about hair stylists and colorists. I usually enter salons with only a vague idea of what exactly I'm looking for, and let the professionals work their magic. Case in point: the way my ombré was done initially had the blonde beginning a few inches down from my roots, and it was Meri Kate's idea to add a bit of color to my bangs in the front for a more natural gradient, something I never would have thought to request that only reflects her keen eye for color! So with an overview of what I wanted from the appointment, I put my locks in Meri Kate's skilled hands and let her touch me up. The blonde she mixed up for me exceeded anything I could have imagined and gave my hair a gorgeous boost of life.
The salon specializes in balayage, which is the technique Meri Kate used to brighten my blonde. It's a free-handed French method of coloring (essentially a foil alternative) used to add dimension to hair, usually favored for its ability to give hair natural-looking or warm-toned color. After my wash, Meri Kate blew out my hair for a style that was smooth and sleek, and I could finally see and gush over the color. Stylist Annie even noticed how refreshed my blonde was compared to when I first sat down in my chair. As a final touch, stylist Stephen came over post-blowout to give me a cut that took off exactly all of the strands and ends that needed to go, giving my hair the body and life it needed.
I was so excited in the salon I couldn't help but immediately document my fresh follicles for Rouge18 posterity with a selfie.
[Above: Portrait of the writer as a balayage fanatic]
After only about a week out of my services, I've already received dozens of compliments on the color. As I excitedly texted Amber in my highlight-high excitement, my appointment at Eva Scrivo was nothing short of "major hair-apy."
The staff at Eva Scrivo is incredible and the service impeccable. The interior of the salon is posh, cool, and immaculate. I recommend Eva Scrivo Salon to anyone in need of beauty therapy.
Visit the salon's site or call 212.677.7315 to schedule an appointment and discover the full range of services that the salon offers.
Eva Scrivo Salons
Downtown: 50 Bond St, New York, NY 10012 | Appointments recommended.
Uptown: 903 Madison Ave, New York, NY 10021 | By appointment only.
—Sara Veljic
Follow Sara on Insta.