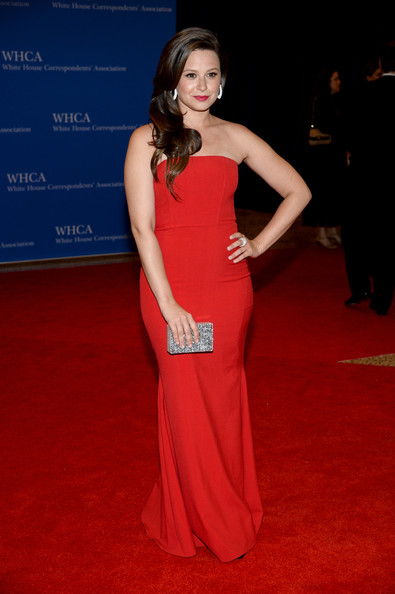 I love that Katie Lowes' actual White House correspondence is relegated to the realm of fiction in "Scandal," but she's still invited to rub elbows with politics' greatest at the annual White House Correspondence dinner. Here, her makeup breakdown for the evening, created by Mark makeup artist Jamie Greenberg.
"For Katie we brought old Hollywood Glamour to Washington. The trend right now is to go monochromatic with reds, so we matched Katie's red lip to her red dress, instead of going with a traditional smoky eye," Jamie Greenberg said. In her words:
Eyes
Started with Chanel Illusion d'ombre in Emerveille as a base, then layered on the three sandy colors from the mark Saint Barts Island Eyes Palette. Added Ardell lashes and lined the eyes with mark Get in Line in Painted Black. Finished with mark Scanda-Lash Mascara in Blacklash
Face
Used Giorgio Armani Foundation as a base. Blended in mark Just Pinched in Cheeky. Dusted Kanebo Sensei Translucent Loose Powder and finished with mark Glowdacious Illuminating Powder.
Lip
mark Lipclick in Cha Cha
What do you think of Katie Lowes' makeup here? I love how it offsets her ravishing red dress.