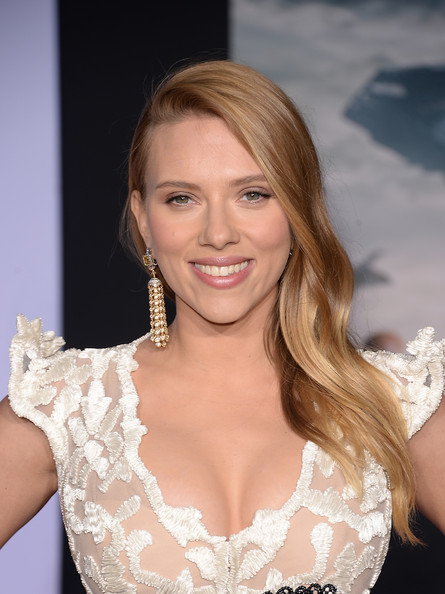 To quote another comic book star, riddle me THIS: Does anyone look better in bronze shadow than Miss Scarlett Johansson? The mom-to-be showed up on the red carpet for Marvel Captain America: The Winter Soldier premiere looking extra fly. Makeup artist Mai Quynh did the makeup honors. In her words, the beauty breakdown.
"For her base, I applied Dolce & Gabbana Perfect Finish Creamy Foundation in Bisque 75 using a foundation brush.  I added Dolce & Gabbana Perfect Matte Concealer in Classic 2 under her eyes and around her nose.  I set her face using Dolce & Gabbana Pressed Powder in Natural Glow 2, applying it with a powder brush.  Next, I brushed on Dolce & Gabbana Blush Luminous Cheek Colour in Delight 35 to the apples of her cheeks.
For her eyes, I used Dolce & Gabbana Eyeshadow Smooth Eye Colour Quad in Jewels 142.  I mixed the pink and peach colors and applied it to her inner lid, blending it upwards and outwards towards the crease.  Then, I added the soft brown color along her upper lash line and blended it upwards and outward towards the other two colors.  I lightly smudged the soft brown along her lower lash line for definition.  Also, I added Dolce & Gabbana Eyeliner Crayon in Nude 9 along her inner rim of her eyes. I applied two coats of Dolce & Gabbana Secret Eyes Lengthening Mascara in Black to her top lashes.
For her lips, I applied Dolce & Gabbana Classic Cream Lipstick in Goddess 140."
What do you think of Scarlett Johansson's look here? And are those some tatas or WHAT?