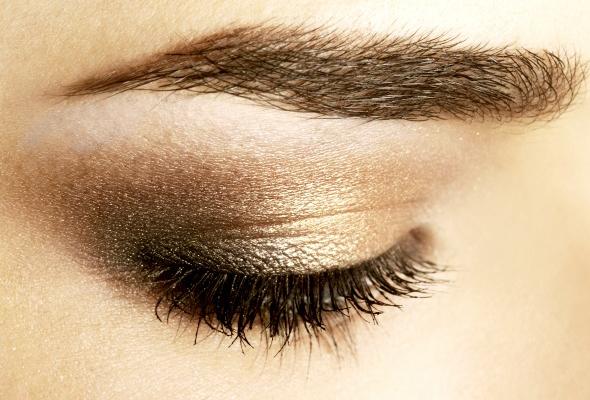 This season's eye look is all about brown and plum tones. Leave your black shadow behind and opt for a new smoky look using a mix of light and medium metallic hues. It's pretty and less dramatic, so it works just as well for the office as it does on the weekend. Follow these tips for a subtle smoky eye straight from the runway.
1. Make it Stick
Prime that lid! I like to apply COVERGIRL & Olay Simply Ageless Serum Primer to my lids with my fingertips. After applying your primer, let it dry a minute before the next step. If you're using a powder shadow, dust a small amount of loose powder onto the lid to eliminate any extra moisture (this will actually help color adhere to the lid). Then apply a small amount of gold-pigmented shadow all over your lid as a base.
2. Color it in
Use a medium bronze or violet color on your lid, from the lash line up to your crease. Apply the color by tapping it on with a small shadow brush. If you prefer cream shadow, try COVERGIRL Bombshell ShineShadow by LashBlast in Ooh La Lilac or Copper Fling. If you like powder, try COVERGIRL Flamed Out Shadow Pot in Melted Caramel.
3. Line and Define
Time to line. For bronze eye effects, try COVERGIRL Bombshell Intensity Liner By LashBlast in Chocolate Kiss or COVERGIRL Liquiline Blast Eyeliner in Violet Voltage. If you opted for a non-liquid pencil, use a dome sponge brush or cotton swab to push the pigment into the lash line and blend it.
Tip: For a flawless cat eye, draw your lines and then use a pointed cotton swab dipped in makeup remover to sharpen the edges.
4. Smoke it Out
Use a clean, fluffy shadow brush to blend the whole lid so there are no harsh edges.
Read the rest of the tips over at P&G Everyday: bit.ly/1idEvU7.