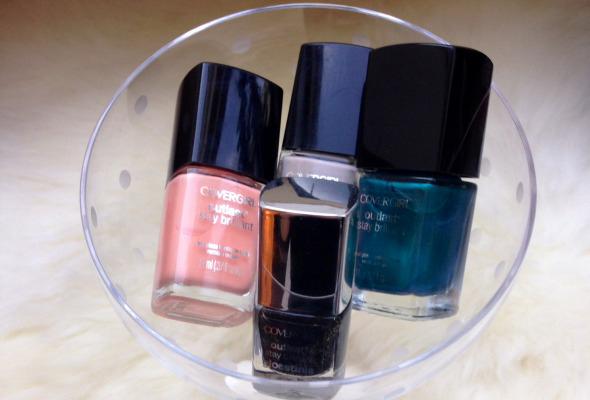 The little white dress is a major trend this season. It's a throwback to the magnificently mod frocks of the '60s and provides the perfect template for a standout manicure. For an on-trend look, pair your white frock with white polish (my go-to white lacquer is CoverGirl Outlast Stay Brilliant Nail Gloss in Snow Storm). But if you're not ready for white on white just yet, these five nail art trends work well on almost any solid color. Happy painting!
1. Chevron Stripes
Chevron stripes are still a huge trend, both in fashion and nail art. My favorite hues to pair with white for a chevron-chic nail are CoverGirl Outlast Stay Brilliant Nail Gloss in Always Naked (barely perceptible taupe), Constant Caribbean (bright, metallic teal) and Peaches and Cream (light opaque peach).
Tip: Use Scotch tape on your white polish (make sure it's dried completely) to create super straight zigzag lines.
2. Black and White Striped Tips
Vertical or horizontal — try whatever you love most! Vertical lines tend to be a little easier to paint on. Use tape to create straight stripes or draw them freehand if you're feeling brave. Use CoverGirl Outlast Stay Brilliant Nail Gloss in Black Diamond to create the look on your all-white base. You can also try the reverse: white stripes on black polish.
Tip: Use a skinny eyeliner brush to get thinner black lines. Want to go more festive? Try CoverGirl Outlast Stay Brilliant Glosstini in Black Heat, a gold-tinged raven shade.
3. Glittering Digits
For dazzling digits, apply two coats of Snow White polish, and then layer on a silver glitter lacquer once the white has completely dried. Finish with a clear top coat for maximum brilliance and long-lasting effects.
4. Sheer Brilliance
For an opaque winter white look, three thin coats work better than two thicker ones. Layer your Snow White polish carefully, taking your time to let it dry. Then, finish with a glossy top coat. For best results, pair with an A-line little white dress.
Read the rest over at P&G Everyday: bit.ly/JixaHo.