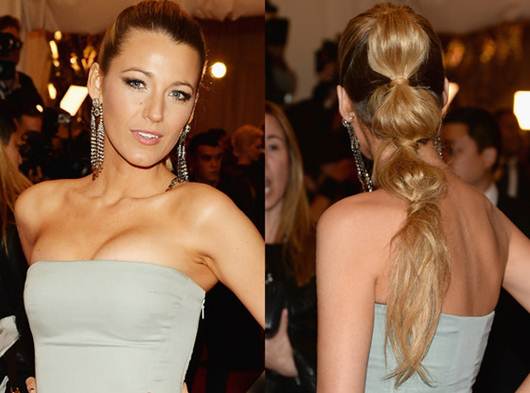 Are you ready for holiday parties? More importantly, is your HAIR? To get your 'do in mistletoe mischief shape, I talked to mane man Ted Gibson about how to replicate this tiered ponytail look sported by Blake Lively. Here's how to get the look, per Ted.
"To achieve this look first comb hair back, as if you were brushing it into a ponytail. Divide your strands into two sections, drawing up from the ear for the top half, and down to create the bottom half. Working with the top half first, backcomb your hair towards the crown of your head to add texture. Next, form a ponytail by smoothing the teased hair with a big, round brush. Secure with a clear elastic hair tie.
Then, take the longest piece from the pony, twist it, and wrap around the base of the ponytail. Secure with a bobby pin. You should then repeat steps these steps for the bottom portion of hair. Next backcomb each of the ponytails to give their "bubbles" volume. You should then connect the two ponytails in the middle of your head and conceal with a clear elastic tie and conceal by wrapping another piece of hair around the band.
Using bobby pins, secure the inner parts of the ponytails to your head to keep the style close to your scalp. As with any look, finish with beautiful hold hairspray to hold it all in place!"
What's your holiday ponytail strategy?