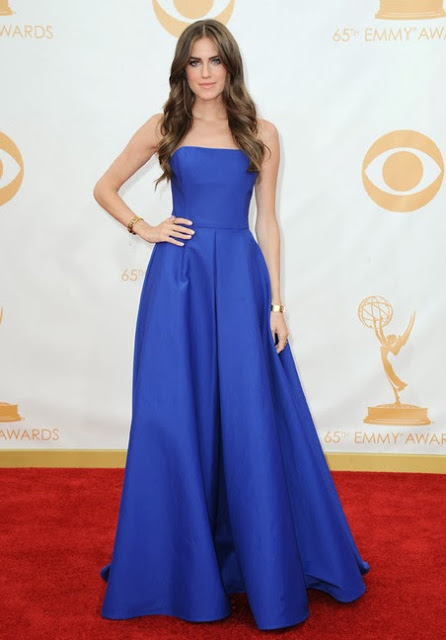 Dove Celebrity Stylist Mark Townsend styled 'Girls' actress Allison Williams' gorgeous mane for the 65th Emmy Awards. When's that gal getting a hair product contract? Here, Townsend's beauty breakdown. 
"Working with Allison Williams for the Emmys was a dream come true! Once I saw her beautiful Ralph Lauren gown and talked with Allison, we decided to keep her hair down and go for a classic all-American beauty look. 
I started by applying a large dollop of the
Dove Whipped Cream Mousse
to her damp hair and blow-dried with a medium round brush to get lots of volume and keep her hair smooth. 
Next, I took 3 to 4 inch sections of hair and curled them with a 1 inch curling iron away from the face. To break up the curls, I scrunched the hair while spraying Oribe Après Beach spray all over. 
Just before Allison left for the red carpet, I sprayed Dove Extra Hold Hairspray all over to keep the hair full and shiny without looking stiff."
What do you think of Allison Williams' cobalt gown and loose, flowing waves?

Like this post? Don't miss another one! Subscribe via my RSS feed.