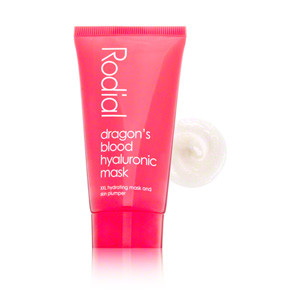 Don't be put off by the vaguely "Game Of Thrones" name of Rodial's Dragon's Blood Hyaluronic Mask ($45). It's The Business.
After a sunny week in Hawaii, where my over-zealous SPFing caused some clogged pores and then a 10-hour red-eye flight, followed by hectic Fashion Week, my moisture game was not cute, dolls. So when this little pink gem arrived in the mail, along with some other fabulous goodies (like the coconut-flavored Glam Stick in Lust, for instance), I slathered this rejuvenating, brightening complex onto my face, STAT. 

And I'm hooked–my skin looks plumper, healthier and generally replete with moisture and not in a greasy-like-Kenickie's-hair-of-Grease-fame way. I just look like a person who's not totally strung out, who eats a lot of vegetables and works about 1/3 as much as I do. Which is always the goal. Per Rodial PR's tip, I've been rocking it overnight a few nights a week and am loving the results. 

Are you into an overnight mask? What's your moisture mask of choice? 


Like this post? Don't miss another one! Subscribe via my RSS feed.