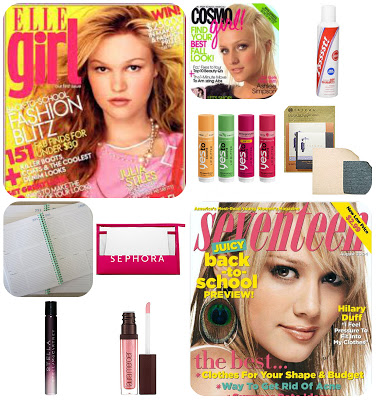 Growing up, the most depressing event of the summer was receiving the "Back-to-School" magazine issues. Seventeen, Teen Vogue, Elle Girl and Cosmo Girl (R.I.P) would arrive at the beginning of August and create a sense of foreboding that hung around all month. It was the equivalent of seeing Valentine's Day candy and decorations on January 2nd. Due to their effect, I always hid the issues until the end of August when I was more emotionally armed to face the truth: summer was over. Well, once again the time has come for the Back to School Round-Up and if you find yourself feeling blue while you read this, just consider it a right of passage. 
Roller Ball Perfume: At the time I bought the tiny fragrance because it was more fiscally friendly but it soon found a place in my after-lunch routine. And despite having loads of full-sized perfume bottles, I only ever buy Stella McCartney's rollerball. 
Dry Shampoo: If I could tell my younger self one thing it would be "always have dry shampoo on you."  And maybe I'd tell her to get her eyebrows done.  
I have no oil-blotting shame: I'll pat my face in the library, on the subway, and as I walk down the street. I haven't left the house without a pack in my bag since 7th grade ( today I only use Tatcha) and god knows every oily teenage could benefit from a blot. Now that I think about it, they should replace the condoms in high-school health centers with oil blotting packs. Last time I checked people never really took those free condoms, did they? 
If you read my 5 rules then you know I am an agenda-addict. I can't help but plan plan plan and this all started in middle school.

This one

is fun because you can customize the quote on the front! 
And for storage, I always liked to keep my things in a clear Sephora case  so I could quickly touch-up between classes.
Follow Julia on Twitter: @Julia_Casella. 

Like this post? Don't miss another one! Subscribe via my RSS feed.