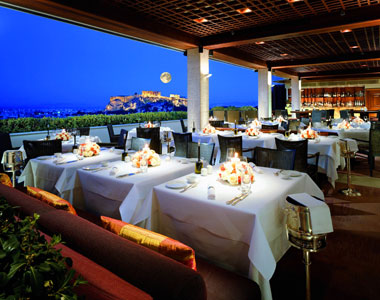 Grand Bretagne's rooftop garden, with view of the Parthenon.
In June, I journeyed to Santorini for Yuli's wedding, followed by a few days' stay in Mykonos and Athens.  Santorini was beautiful, if a bit foggy. Oia was beautiful, but the rest left me wanting Greece to look the way it does in every artistic rendition you see. I was blown away by Mykonos' blue and white everything. It was living in a Parliament ad with a permanent Enya soundtrack, the way I expected it to. More on my Mykonos hotel, En Lefko, in a post next week.
In Athens, Dina and I stayed at luxe hotel Grand Bretagne, clearly the Greek version of The Plaza.
It was recommended by chic Greek Abby Fazio, owner of New London Pharmacy. There, we saw Ethan Hawke on a press junket for Before Midnight at the hotel's restaurant and dined every morning with a view of the Parthenon, which made the real Classics major in me (I'd certainly have chosen Greek/Latin if it were remotely socially acceptable and settled for French Literature only because spending half my time in college perfecting a dead language doesn't go over so well in job interviews) so happy when we hiked up the Acropolis to see it IRL. Here, a tour of my room at the Hotel Grand Bretagne.
Hotel Grand Bretagne is located in Constitution Square  Athens 105 64, Greece. 
Call +30 21 0333 0000 to make a reservation. 
Have you been to Greece? What were your impressions of the country? 
Like this post? Don't miss another one!
Subscribe
via my RSS feed.