Official Mascara Correspondent Ashleigh Ciucci has been lengthening her lashes this week with MAC Extreme Dimension 3D Black Lash Mascara. Is it everything and more? Find out.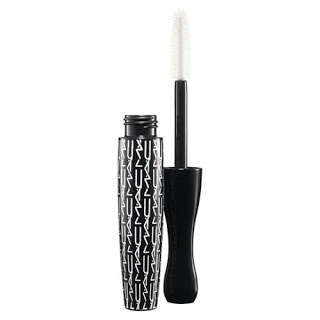 I'm going to start by saying I don't usually like new riffs on the handle of mascaras. Strange grips can lead to a loss of control and general annoyance. This new MAC mascara has a bowling-pin shaped handle which I at first thought was just for decoration. However when I opened the tube and raised my hand to apply, I realized that there was definitely something ergonomic going on. I had a great grip on this tube which made for EASIER application. Mind blown.
Now on to the actual mascara. The formula is very wet and grippy and I was able to get a lot of coverage thanks to the mondo-sized brush. I got a lot of length but made sure not to "play" too much. Overworking this formula can lead to clumps.
Because of this, I had to be careful when applying coat two: I quickly got Tammy Faye lashes and needed a lash comb to comb through the wreckage. Lesson learned: only wiggle your second coat in at the base of the lashes.
It's a similar deal with the midday touch-up. My lashes were supple enough to add more product but I just keep it at the roots. Because the formula is so rich, it took a wealth of oil-based eye makeup remover to get my lashes back to baby blonde at the end of he day. I suggest MAC's Cleanse Off Oil with cotton pads.
But the effect is totally work the effort. Buy this baby!!!–Ashleigh Ciucci

Like this post? Don't miss another one! Subscribe via my RSS feed.