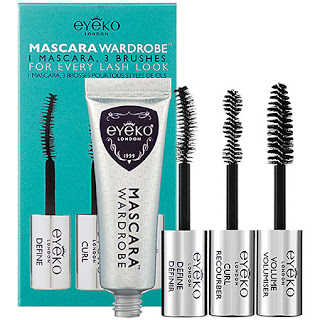 Eyeko has done something really cool with this mascara set.  In one box, you get one mascara tube with three different interchangeable brushes.
One brush offers the capability to DEFINE.  The curved brush with soft bristles works well with the creamy formula to give good lift and lash coverage. There was good definition with my lashes looking thick and tapered.
However, with a second coat, my lashes got a bit clumpy. But I got a good look if I just combed out the product that clumped at the tips. The CURL brush is the fanciest of the three brushes; it's straight with three bristle balls.  While it's cool-looking, it doesn't give as much curl as it offers. I found that if I twisted the brush while combing through from the top of my lashes (as opposed to brushing up from the underside of the lash) I got a moderate amount of curl with soft separation. I got an extra boost of curl by holding back the tips with the brush as the second coat dried (but you can use this trick with any old mascara.)
Finally, the VOLUME brush is thick and fat a la Benefit's Bad Gal or Dior Show. This was my least favorite of the brushes; I found that my lashes never really bulked up and actually clumped together in tiny spikes rather than spread out.  It's possible that this brush shape needs a thicker-textured mascara formula.  I love the concept of this trio of brushes.  The mascara tube itself is squishy so you can squeeze the tube while your chosen brush is inside to get the most gook on the bristles. The only thing that would make this cooler is if it came with some sort of carrying case for the set. Oh! and it washes off easily with soap and water.–Ashleigh Ciucci

Eyeko Mascara Wardrobe retails for $28 at sephora.com. Is this a product you'd like to add to your arsenal? Sound off in the comments. 

Like this post? Don't miss another one! Subscribe via my RSS feed.