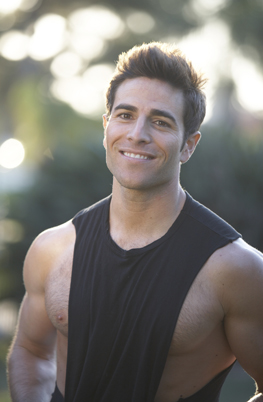 Barry's Bootcamp Chief Operating Officer, Joey Gonzalez

Barry's Bootcamp is one of the most popular new boutique fitness crazes in NYC. And with spicy instructors like Joey Gonzalez, pictured above, is it any wonder? Birchbox invited me to attend a class to promote their partnership with Women's Health, so because my fitness motto is "I'll try anything once," I road-tested the hour-long class, even though I heard it was heavy on running–my least favorite workout of them all. Here's how I fared. 

The pros: 
No one was yelling at you in a bootcamp-y way. Joey was motivating, but not irritatingly so nor pushily so. We did a tush section that rivaled that of Core Fusion's or Physique 57's, so it was old hat for me. It was a hands and knees, pushing your leg back several times in a row on both sides kind of deal. Difficult for someone new to it, but it's effective. The hour didn't drag on as much as I thought it would. Switching from running to weights to seat work and back again broke up the time so that I couldn't get too tired of any one thing. 

The cons: 
I'm not going to lie–the running was INTENSE. Like, Joey was telling us to go 12.0 (miles per hour) which is just faster than I ran when I ran track in high school (obviously I wasn't good at it, even then–but still). I'm normally a 7.0 at a MAXIMUM, so that was quite a leap. I understand you work up to a faster rate, but I couldn't even FEIGN doing that for a single minute. Literally. It was kind of disheartening. Also, the weight situation. In Flywheel and Core Fusion, I lift 6 lbs total. Here? I think we were told to grab 2 10-lb weights, and it felt like we did a ton of reps. Difficult, but, again, this class does seem to be crazy effective. You also have to buy or bring your own water, which irritates me, but isn't the end of the world. Classes are $34 each, which is expensive, but pretty standard. You can score a slight discount when purchasing a package. 

All in all, I'd go back, but I think I'd need to start a running routine before doing this one regularly. While the running was difficult for me, overall, the class was a SNEEZE compared to Bassett's Bootcamp at Pure Yoga. Barry, you got nothing on Loren Bassett. Are you a Barry's Bootcamp fan? 


Like this post? Don't miss another one! Subscribe via my RSS feed.