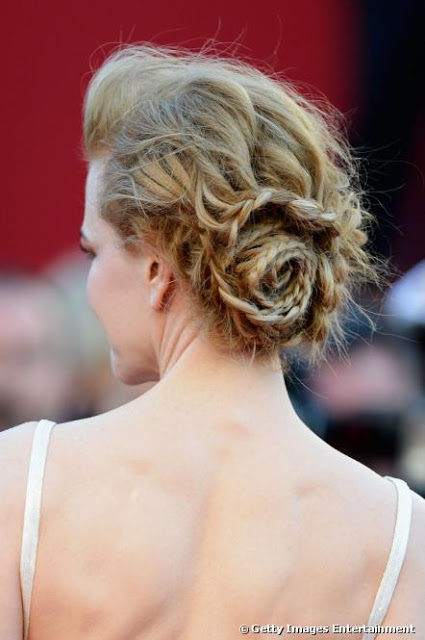 Hello glamberous girls! How was your Memorial Day weekend? Mine was phenomenal. I stayed in NYC (my favorite time here is when everyone's away) and watched all of the new season of "Arrested Development" and hosted a mini party for the "Behind The Candelabra" premiere and enjoyed some drinks on the town at The Tippler on Saturday night. Speaking of Saturday night, have you seen Nicole Kidman's messy braided rose bun she rocked in Cannes that evening, May 26, created by Anna Cantu, Farouk Systems Creative Artist? It's major. Here's how to recreate the look.

1. Create texture with your CHI Orbit Styler and sprinkle BioSilk Volumizing Therapy Texturizing Powder at roots. Set your waves in any direction since you are just building up texture.
2. Section the hair in a strong part from the left temple area to the right ear point, tease at the fringe area and begin a loose and textured braid. As you braid, you can pull pieces of the braid out to create a messy look. The more u pull the larger the braid will get. Seal the braid with a small elastic band and section away.
3. Next, section the opposite section from temple to lower nape and begin a low loose braid. Remember to pull pieces out to create texture in the braids and secure with a small elastic band, section away. 
4. Now we can take the entire large section and shake some curls out and tease at the root area of the entire back section. You can use CHI Pliable polish to control some of the curls before you begin to braid.
5. Begin to braid the entire section in the back quadrant.  As you braid make sure you to start the braid loose and finish the braid clean and neat.  Secure with small elastic band. This section is your clean inner braid of the Rose. 
(Tip: I
f you don't have long hair or you have fine hair don't worry!  Buy some synthetic hair extensions and create a loose messy braid and braid into a clean one. Then pin in place.)
6. Now we are ready to begin our up style. Begin with the large back nape braid, start with the clean end and roll up into the loose root area. Remember this is our inner rose bud. Pin in place in the left lower nape.
7. Take the two large loose braids and begin to wrap the braids around the rose bud, one underneath and the other on top, clock wise to create the outer area of the rose. Pin and spray with BioSilk Volumizing Therapy Hairspray to seal your up style. Don't forget to add shine with CHI Shine Infusion.
(Tip: when hiding the elastic bands you can tuck under the opposite braid or fold and pin.)
What do you think of this hairstyle?

Like this post? Don't miss another one! Subscribe via my RSS feed.