By Julia Casella
Samantha is right—you have to love yourself. Self -love is a pretty long road but I think it's paved with good beauty products. Perfume being an essential element as scent is so closely tied to emotion. In her book, The Scent of Desire, Rachel Herz presents her research on smell and how it influences emotion, learning, memory, and social behavior. However, I don't think she provides specific perfume recommendations (her bio says she consults for "the world's foremost fragrance and flavor companies" but doesn't say which ones) so that is where BBJ comes in.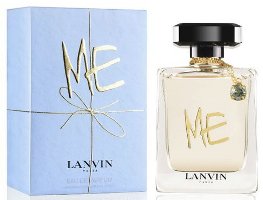 This summer I want you to love yourself by loving Me. No I'm not being narcissistic (although you can feel free to love me) I'm talking about Lanvin's new fragrance.  A sweet blend of blueberry and rose is coupled with sensual notes of licorice and sandalwood.  This perfume will make you irresistible to everyone—including yourself.
What's your favorite spring fragrance? 
Follow Julia Casella on Twitter: @Julia_Casella. 
Like this post? Don't miss another one!
Subscribe
via my RSS feed.