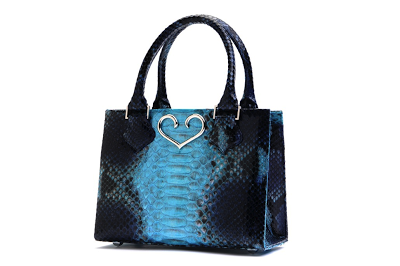 I've long said that most women could be categorized as having either an inner nyad or dryad. In the water is where I feel most me and stories about mermaids resonate with  me in this way that's approaching not even normal. So I was both fascinated and initially appalled when I heard the name of Ramiro Encizo's latest design, The Petit Noor Tote in Mermaid Skin. (Rest assured, it's not really made of mermaid skin.)  The bags are hand-crafted right here in NYC under the watchful eye of Ramiro himself and are a hit with Naomi Campbell, Countess LuAnn de Lesseps of "The Real Housewives Of New York City" fame and Joan Rivers, to name a few. 
Want to make it part of your world? It's $1,695 at ramiroencizo.com. Sure, it costs more than a thing-a-ma-bob, but you've already got 20.
Like this post? Don't miss another one!
Subscribe
via my RSS feed.