Fictionary is a column showcasing beauty- and health-related words that don't exist, but should.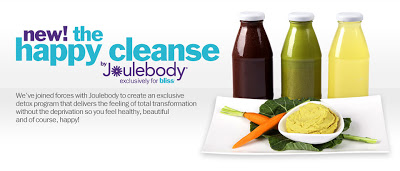 I'm all for cleanses, but the main argument against them is always from those who are concerned that they're not "chewing anything" throughout the day, and listen–that's a valid point. Your garden-variety cleanse can skew pretty Fascist and the first day is always a beast. In fact, I've been known to drink a lemonaid with my lunch and claim I'm on one. 


So Bliss' (they of the brownies-whilst-you-spa variety) new partnership with wellness brand JouleBody is an excellent chew-friendly three-day Happy Cleanse and it's for anyone who's not quite into a juice-only situation. Be your own CleanseCrafter. It's chock-full of fruits, vegetables, soups, snacks and the very best bars you've ever tasted in your lifestyle. Seriously, I'll be ordering the Ginger Detox Bars as part of my regular nutrition repertoire, particularly for breakfast. They're even gluten and wheat-free. My favorite part of the menu? The hummus and veggie combo, the butternut squash soup and the falafel. Delicious! 

This cleanse effectively walks the line between a diet and a juice-fast. There's enough readily spiced, solid food so that you don't feel as if you're being punished (which, let's face it, many cleanses can conjure up feelings of major loss in the meal department) but the choices are low-cal and healthy enough that you'll still drop bloat by the end of your three days. 

I love this cleanse because it's REASONABLE, much like the agreed-on volume level of Milton Waddams' radio between the hours of 9 and 11 on Office Space. 



You can boost the benefits in-spa as well with Bliss' new The Happy Wrap, a relaxing wrap infused with ginger to reduce inflammation and muscle pain while boosting circulation. You'll finish with a Vichy rinse and a moisturizing rubdown, leaving you refreshed. It's $75 for 45 minutes at Bliss Spas. 

The Happy Cleanse is $279 and is available for purchase at blissworld.com. What are your thoughts on cleanses? 

Like this post? Don't miss another one! Subscribe via my RSS feed.