Credits: Go Sugimoto (photographer), Marla Belt (makeup) Jin Soon (manicure)
Fictionary is a column showcasing beauty-related words that don't exist, but should.

Are you working in an oppressive work environs (wherein they use the word environs) where expressing yourself via your manicure is looked down upon, lest you be branded a crimonail? Girl, I feel that. I've been on the payroll of a big 4 audit firm, a bond rating agency and a mutual fund and none of those corporations found my love of vibrant nails rationail. Nothing like punctuating your point during a PowerPoint with a fun talon while everyone stares at you as if you're an alien and tells you they'd like to "circle back" and discuss your manicure "offline." Sometimes I'd toe the line with a fluorescent purple or a neon red/pink. How I wish I'd had access to Jin Soon's new saturated pale hues in her spring Botanicals Flowers collection.  They occupy the overlap of a Venn diagram of brights and pastels and you can even sneak some art in there, if you go for a subtle "V" like the one Jin created above with Coral Peony and Tea Rose. Sayonara, neons. This season's all about vivid pastels.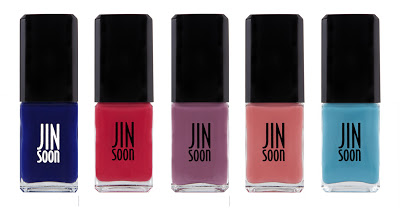 Named once again by top runway models, this time after their favorite botanical flowers, the range was inspired by Jin's own love of arts and background in high fashion. These lacquers boast the most luxurious, long-lasting high-gloss formulas, to boot. As I live and type, I'm rocking Blue Iris and my manicure is one week deep. AND it even garnered a compliment from my straight spin instructor mid-class at Flywheel and just about everyone who laid eyes on it. The collection includes: 

Blue Iris (deep electric blue, named by Saskia de Brauw)
Coral Peony (hot coral pink, named by Vanessa Axente) 
French Lilac (light plum lavender, named by Meghan Collison) 
Tea Rose (light coral, named by Fei Fei Sun)
Poppy Blue (bright mint blue, named by Tati Cotliar) 

These polishes are EVERYTHING. I don't see myself straying from them until I've nailed all 5 shades. Purchase them for $18 each at us.spacenk.com. What do you think of the latest from Jin Soon? 

Like this post? Don't miss another one! Subscribe via my RSS feed.