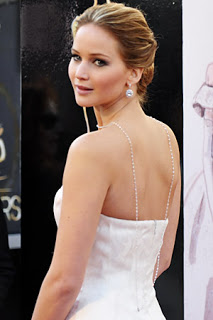 Mark Townsend
created
Jennifer Lawrence
's gorgeous hairstyle for the 2013 Oscars. Here, the beauty breakdown, straight from Townsend. 
For her Oscars hair style, I started by applying a few drops of Dove Nourishing Oil Care Anti-Frizz Serum to her damp hair and combed through. This serum is loaded with natural almond and coconut oils to give the hair extra moisture and shine.
Next, I added a large dollop of Dove Nourishing Curls Whipped Cream Mousse to her hair and blow dried with a large round brush.
To give the hair texture and shine I added a nickel size of Dove Frizz-Free Shine Cream-Serum in my hands and then raked through the hair. Then, I took random pieces from each side and loosely twisted them and pinned them together at the back of the head with eight bobby pins in crosses.
Then, I took the remaining hair and gathered it into a loose playful bun and finished as always with Dove Strength & Shine Extra Hold Hairspray."
I wasn't a fan of that bridey gown, but I thought her hair was impeccable. What say you? 
Like this post? Don't miss another one! Subscribe via my RSS feed.