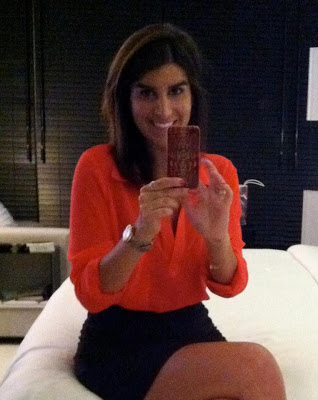 Social media guru Julia Murphree

is one of my longtime beauty friends and heads up digital engagement for megabrands

Maybelline, Essie

and

Garnier

at L'Oreal. Julia and I met eons ago through my friend Stephanie, a high school friend of my college roommate Amber, when the two worked together at a PR agency. I've had more conversations than I can count about Julia's own knack for vernac, DIY duds (way before the days of P.S. I Made This) and makeup mastery. She also shares my

fascination with the ridiculosity of corporate lingo. Julia's at the helm of a veritable cosmetics commonwealth thanks to her super-savvy ways, so I asked her to share her Five Rules For Life here. In Julia's words. 
1.
If you're going to be a mess, be a hot mess. 
Sometimes you think you've set the alarm clock for 7AM when in fact you've set it for 7PM –  happens to the best of us – but in the beauty industry, you HAVE to look put together. My advice is to create an emergency beauty routine. Find the three or four products you need to look more polished in two minutes flat. The products in my emergency kit are concealer, eyeliner, lipstick and an eyelash curler. Bonus points if you can apply these products in a moving vehicle on your way to work.
2.
Flats are for quitters.
FACT: High heels elongate your legs and shape your entire body.
FACT: High heels improve your posture instantly.
FACT: High heels let you stand tall and confident, giving you more powerful body language and an air of authority. 
3.
Become an expert on something.
Whether you work in an office, at a school or in a hospital, chances are you're part of a team. Everyone's working toward a common goal and everyone has something to contribute, but skill sets tend to overlap. What makes you stand out? What's your specialty? Find something you're passionate about and learn everything there is to know. This will make you invaluable.
4.
Write things down…on paper!
I'm as digital as they come. I couldn't go a day without my iPhone, iPad, MacBook, BlackBerry and PC.  But when it comes to my to-do list, I'm a pen and paper kind of gal.  My entire life is prioritized in black marker on a neon yellow notepad. There's something so fulfilling about physically crossing an item off my to-do list.
Read my own Five Rules.
5.
Guilt is a wasted emotion.
I'm still working on this – but here's what I know for sure…feeling guilty is an enormous waste of time. You won't accomplish anything by dwelling on the past. Accept what's happened and move on. That's all there is to it.

Thanks, Julia! Stay tuned for more Five Rules. 
 "Five Rules," is a series on Beauty Blogging Junkie in which I ask others to share their five rules for life about anything and everything. You can learn a lot about a person by reading which five things govern their actions, no? 


Like this post? Don't miss another one! Subscribe via my RSS feed.