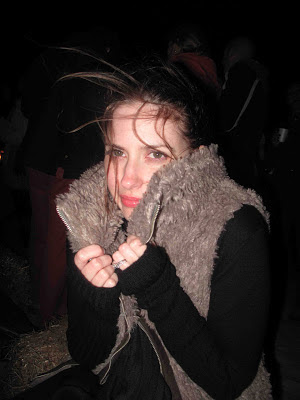 Amy Keller Laird is a legend in the beauty industry with an enviable career that's included editorial positions at Allure and Good Housekeeping. The former copy editor (shout-out to the serial comma!) is currently executive editor at Women's Health. She's incredibly entertaining on Twitter, has given me fantastic fodder for my Fictitious Fragrance Fan series (Pulp Fiction's Mia Wallace, stay tuned for her scent choice). She took her Five Rules assignment so seriously, she included beauty rule and an addendum for how it applies to life. Get schooled. In Amy's words, her Five Rules For Life.


1. Beauty Rule: Always wear mascara on your lower lashes. Do not give in to the haters who say it's too dark/too smudgy/too unnecessary/too insert-unfounded-reason-here. It is THE thing to make your eyes look finished and photo-shoot-esque. By defining your lashes this way, you feel more polished…which boosts your confidence…which helps you nail that work presentation…which gets the boss thinking about your rock-star-ish-ness…and boom: You get a killer promotion thanks to a few lower-lash swipes. Tell THAT to the haters. #TeamBottomLash
Life Rule Translation: Sometimes you should sweat the small stuff. Some details do matter. In fact, sometimes they make all the difference.


Read Liesa Goins' Five Rules For Life. 


2. Beauty Rule: If you want to try lime-green eyeliner or magenta-striped nail stickers—but every magazine, blog, and friend advises against it with your skin tone—go for it anyway. Maybe it won't be your most flattering shade or look ever, but 365 days of beige are far deadlier.
Life Rule Translation: Show a little personality in everything you do. So maybe I'm known on Twitter as much for unicorns and Dr. Pepper as for anything else…and maybe there are those who think that's cheesy or pedestrian or whatever. But it shows I'm a real person, with quirky eccentricities (we've all got ours!), and I think that makes someone a relatable, interesting, and memorable human being. How many times do people—including those I've never MIRL—see a picture of a unicorn and tweet it at me? I love that.
3. Beauty Rule: Keep both a nude lipstick and a red lipstick in your bag at all times. You never know which you're gonna need.
Life Rule Translation: Be prepared. It's not sexy, but it's the single best way to kick serious ass no matter what type of (or whose) ass you're kicking.
Life Rule Translation: Look out for your buds, yo! Push them forward when they need it; school them when they need it; be there when they need it. One day you'll need the same from them.
5. Beauty Rule: If what you're dying for is the $70 Clé de Peau concealer or $75 Serge Lutens lipstick or a bottle of Frédéric Malle's exquisite $315 Une Rose, save up and splurge—no matter who thinks you're crazy for spending that much money on makeup.
Life Rule Translation: Dream big and aim for what you really want. After graduating from journalism school, I was working as a copy editor at the local newspaper in Columbia, Missouri (my hometown) when I announced I was moving to New York City to find a magazine job. "I hope you don't end up working at Hardee's," my boss only half-joked. And he wasn't the only skeptical one: Practically everyone questioned whether a Midwest kid could actually make it in the big bad world of Manhattan magazines. I tuned them out and moved without a job or an apartment or a fancy internship on my resume—with two measly Big Apple acquaintances to my name. But I worked my butt off and made things happen. And there you have it.
Thanks, Amy! Stay tuned for more
Five Rules
.

Like this post? Don't miss another one! Subscribe via my RSS feed.