Welcome to a new BBJ feature, Fictitious Fragrance Fans. Fragrance is one of the most difficult areas of beauty to discuss and I find myself trying to convey a scent to you, more often than not, by the pop culture character it embodies to me. So why not make it a thing?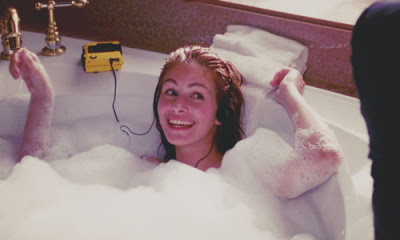 Friends, did you know that today is National Bubble Bath Day? I would never make that up. In celebration, I'd like to discuss perhaps the most famous bubble bath enthusiast, Vivian Ward of Pretty Woman, and the scent she'd undoubtedly choose. It's Agent Provacateur Bubble Luscious Bubble Bath, of course. Why is it so Vivian? It nails that VERY fine line of clean, innocent, but sexy as hell. It boasts a distinct retro vibe without registering as old lady; more flapper than Aunt Fanny. But it's also got a sultry undertone. It's for those who want the fairy tale. Not investing in it will prove to be a big mistake. Huge. 

Ideal for those evenings after a week of doling out your time and energy to everyone on the planet when all you can do is take care of you, this sweetly almond scented foamy bath accoutrement softens skin with a hint of fresh fragrance. Pour a few pumps in, put on the select musical stylings of Prince (don't you just love him more than life itself?) and imagine you're at the Reg Bev Wil with your very own Edward Lewis. If you're pressed for time, the iridescent pink gel doubles as a body wash for the shower. Use it for shaving; it'll make your razor corner like it's on rails.
The Agent Provacateur Bubble Luscious Bubble Bath retails for $52 at
agentprovocateur.com
.
Like this post? Don't miss another one!
Subscribe
via my RSS feed.