By Julia Casella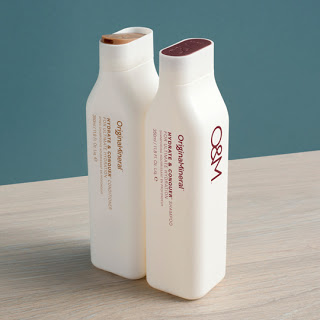 Last week as I sipped tea and got an amazing head massage at the Alibi Salon in Soho, I was overcome with a desire to eat my shampoo. Seriously it smelled incred: a little like coconut, a little like macadamia, slightly like cake and completely edible (PS. It isn't but remember when Jessica Simpson had that line of products that you were actually encouraged to eat on Newlyweds?) 

Anyway, I was at the salon for an OriginalMineral glaze, that was odorless yet very effective, and ended up chatting with OriginalMineral creative director Janelle Chaplin about their yummy products. The Australian brand prides itself on creating shinny healthy hair, which means their hair shampoos and conditioners are phthalate, sulfate and paraben free. The shampoo used on my hair was the Hydrate & Conquer (made with Macadamia Oil) but all their products smell differently and I promise you that while you may be tempted to taste the suds in the shower, the scent isn't overpowering once your hair is dry. Janelle also shared the recipe for her "hair facial" that she uses every time she washes her hair: Original Detox Shampoo, Hydrate and Conquer Shampoo and The Power Base Protein Masque. Or you can simply mix some Frizzy Logic Serum into the Power Base Masque or Seven Day Miracle Masque for an even richer and decadent hair treat.  

Follow Julia Casella on Twitter: @Julia_Casella. 

Like this post? Don't miss another one! Subscribe via my RSS feed.