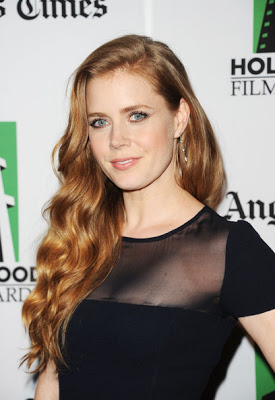 Amy Adams
is truly cornering the subtle glamour look of late. 
Last night Amy Adams attended the 16th Annual Hollywood Film Awards Gala in a gorgeous simple navy Oscar De LaRenta dress. Makeup artist
Stephen Sollitto
did the cosmetics honors. Here, the beauty breakdown, in his words. 
"To start I used Tarte's Amazonian Clay 12 hour Foundation with a wet sponge. This dilutes it and puts a light blanket so the skin looks healthy. Her skin doesn't need more than that.
 I always love to put one champagne-y color on the lid as a blank canvas. Lately I have been using NARS Miss Liberty. This has a gentle sparkle to it which reflects and warms the skin. At her lash line I used Votre Vu's Aubergine, an eggplant/brown which helps with coloring. On top of that and on the lid I brushed Jouer's Bordeaux eye shadow another sheeny eggplant. This blends out the pencil line and deepens her eye. In the outer corners of her eye, right in the lashes I tapped with a straight brush a deep dark purple color MAC's Shadowy Lady. This darkens her lash line and draws the eye outward. In the inner corners of her eyes I used Jouer's Highlighter in Feather. This reflects beautifully and in pictures always brightens up the eye. Underneath her bottom lashes I used a golden brown from Tarte's Call of the Wild palette in Jungle. This has enough Gold in it to bring out all the colors of anyone's eyes. This was followed by two coats of Benefit's Get Bent Mascara.
On Amy's cheeks I used Jouer blush in Rose. With a Navy dress I wanted a pink flush coloring not oranges or reds. On top of that I used a paler Pink, MAC's Flower Mist Dew. I often like two different colors on the cheeks. One deeper color to accent the shadow of the cheek bone. Then one softer connecting blush for the apples to the nose so that the blush color doesn't just stop abruptly.
For lips I often chose Jouer. They seem to get color perfectly right. It's like they have an endless choice of ideal neutrals. This one I needed the lip to show up and also have a bit of pink but not overshadow the eye. I used one of my favorites Jouer Meredith. It reads beautifully." 
What do you think of Amy's look here? Parenthetically, Jouer Meredith is named after a friend of mine who works for the brand. She must be so excited about Stephen's lip color choice! 
Like this post? Don't miss another one! Subscribe via my RSS feed.