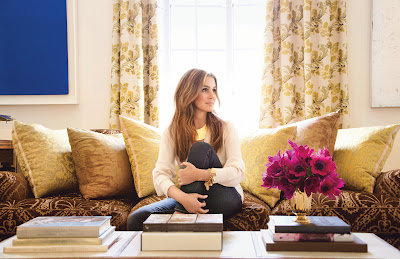 Aerin Lauder

Fictionary is a column showcasing beauty-related words that don't exist, but should.
Because my life is a cheerleading squad, I don't have room for many girl crushes. I have only a select few and at the top of the list has always been Aerin Lauder. I live for her Private Collection of fragrances for Estee Lauder, a brand for which she still serves as Style and Image Director. I'm enamored of her commitment to all things gold; her impeccable taste which verges on magical. I've talked about her for hours with my fellow Aerinthusiasts Julia Coney and Andrea Lavinthal (though I maintain that I'm president of her fan club, they each can share the title of vice president). Even the spelling of her NAME, with that extra amazing A gives her moniker a special gravitas that leave other standard-issue ERINS bereft. Her aesthetic is so cultivated and divine–especially her office space, where I had the exclusive opportunity to interview her in person. Check out the Architectural Digest spread on it–gilded genius. Her vision is that rare combination of simple opulence–a line no one else seems to be able to walk. And that's why I've dubbed it an Aerinsthetic. And hers is spectacular. Read on for an exclusive Q&A with the pinnacle of pretty progeny and photos of her new Aerin Essentials and Fall 2012 Color Collections.

The Aerin Essentials Collection
Her new line, AERIN, is all about effortless beauty and launches in September with a permanent collection called Aerin Essentials, in addition to a limited-edition Fall 2012 Color Collection.
The Aerin Essentials Collection is a carefully culled selection of items women simply can't live without. It includes:
Fresh Skin Compact Makeup (available in six shades, $48)
Pretty Bronze Illuminating Powder (available in two shades, $45)
Multi Color For Lips and Cheeks in Nautral ($42)
Rose Lip Conditioner in Nude  ($28)
Rose Hand and Body Cream ($40)
Essential Makeup Bag ($48)
Brush Essentials (includes Foundation, Concealer, Bronzer, Highlighter and Lip Brushes in an Aerin Signature patterned bag $148)
Aerin Fall 2012 Color Collection: Weekday
 The Aerin Fall 2012 Color Collection: Weekday includes:
Fall Style Palette in Weekday ($70), which includes two eye shadows in Dogwood and Grayge, one blush in Rose and one highlighter in Beam
Lipstick in Pout ($30)
Lip Gloss in Perfect Nude ($30)
Aerin Fall 2012 Color Collection: Weekend
The Aerin Fall 2012 Color Collection: Weekend includes:
Fall Style Palette In Weekend ($70),which includes two eye shadows in Simplicity and Dream, one blush in Innocence and one highlighter in Innuendo
Lipstick in Sunday Morning ($30)
Lip Gloss in Sweet Pea ($30)
Q&A With Aerin
Beauty Blogging Junkie: What inspired the collection? 
Aerin Lauder: I've obviously been in the beauty business many years, Estee [Lauder] was my grandmother. From the time I was three years old, I'd watch her apply her makeup. We spent a lot of time together as a family and we always went on vacation together. So all year long, I'd sit with her as she put on cosmetics. I was mesmerized by her items. People would always ask me what's in my makeup bag. I'm exposed to so many brands, MAC, Bobbi Brown, Clinique, Jo Malone. I did tons of interviews about my essentials. So I had this idea to creatie a capsule collection of beauty items I cannot live without. In the past, I focus-grouped the concept. What was exciting is that it opened up so many doors–people really are looking for a lifestyle brand. Even though beauty is my heritage, my passion is really style and home. In the next 1.5 years, we'll launch other categories. Beauty is first, launching in the next two weeks. 
The fall collection is based on lifestyle trends. Weekday/weekend. Women wear makeup seven days a week, but more it skews more subtle on the weekend, using a more neutral weekend palette. I like the element of surprise, feminine, effortless beauty. It's all about being edited, focused and a special experience. The Essential Collection are the items I can't live without. The bronzer smells like beautiful flowers. The lip/eye/cheek product based on glow, an item Estee made years ago [Ed. note: I've been WANTING this to come into my lifestyle since I read about it in Estee Lauder's biography years ago!]. It is very authentic. These are the things in my makeup bag. It's all very wearable, very sheer, mistake-proof makeup. 
BBJ: What's your go-to makeup look during the week? 
AL: Estee Lauder Re-Nutriv serum, bronzer on my cheeks, Estee Lauder mascara and liner, with a little lipstick or lip gloss. 
BBJ: Which makeup look from a runway, movie or television show resonates most with you?  
AL: The Lanvin makeup for fall was one of my favorite looks. It was grown up, ladylike. 
BBJ: What about movies? Any film with an truly excellent makeup concept that really resonates with you? AL: To Catch A Thief. The jetset lifestyle, the eyes in that movie. 
BBJ: What was your beauty gateway drug, i.e., your first product that unleashed a love of beauty for you? 
AL: Clinique was really my beauty gateway drug. That soap that came in the green thing–the three-step skin care regimen. And Dramatically Different Moisturizing Lotion.  I loved an opal Estee Lauder lip gloss in the '80s. I think it was 1982. Nail polish, also. My grandmother always had beautiful nails–strawberry, coral, pinks and oranges. 
BBJ: What was your first foray into fragrance? 
AL: Pleasures. I wore fragrance growing up, but not as much as I did when I was older. I worked on Pleasures at Estee. It's really sheer and pretty. I always remember I tested it at Vassar for a team-building event and everyone kept asking what it was I was wearing. 
BBJ: Is there one piece of the collection in particular that you wear the most?
AL: The bronzer. I love the way it smells, feels and is packaged. It's multi-purpose as well for universality. 
BBJ: What's the best advice you ever received from Estee?
AL: Whatever you do, do it well. Be passionate and driven. 
BBJ: What's been most rewarding about creating Aerin?
AL: The response! The retailer response. The industry response. Everyone's excited. I'm 42. I've been in the industry for 20-something years. It's the perfect next chapter for me. 
BBJ: What was most challenging?
AL: Doing everything at such a fast pace. It leaked before we were ready, so everything had to speed up accordingly. 
BBJ: Tell me about the gold packaging! 
AL: I've always loved gold. I think it's something that was handed down from my grandmother and reinforced by my parents. I always wore gold jewelry and I love gold accessories. I also wanted it to coordinate with the Estee Lauder packaging, which is gold. It's very minimal, but pretty. There's mirrored gold packaging for the lipsticks. These are all the neutrals that I could never find. And I love lip glosses without pearl. A creamy matte gloss is great.
BBJ: When did you know you wanted to work in the industry?
AL: One summer I worked at Museum of Modern Art, the next one I worked at Clinique and loved it. I've always adored beauty and fashion. 
BBJ: What is most played on my iPod? 
AL: Coldplay's most recent album Mylo Xyloto. I listen to it on the elliptical. It's upbeat. 
BBJ: What are you watching on TV: 
AL: Mad Men! I do love it. I'm addicted to it. I want to meet Mr. Draper. I think he's so handsome. I find him crazy attractive. 
BBJ: Me, TOO. What's next for Aerin (the brand)?
AL: We're doing four collections a year–fall, holiday, spring and summer. Holiday's about an evening out or in. We're also doing beautiful giftables and candles. Spring will be the home launch. 
BBJ: What do you like to do when you're not in the office?
AL: I still love getting into bed with a pile of magazines. I think I'll always enjoy that. I love W, Harper's Bazaar, Vogue, Japanese Vogue. I love art catalogues. And US Weekly and People. There's nothing better than keeping up to date on things like the fact that Suri is staying with her dad. I just love that. 
BBJ: What's your signature scent?
AL: I love Private Collection–very feminine, very floral. I was working on it for many years. It's very luxurious and very rich. That and Pleasures are my two favorites.
BBJ: Which beauty brands did you work at for Estee Lauder?
AL: Clinique and Prescriptives and Estee Lauder. I used to love Custom Blend foundation-my first foundation ever. I loved the lipsticks, powders, all you need. And Comfort Cream from Clinique.
BBJ: What's on your nails right now? 
AL: I'm a huge fan of Essie Fed Up. I do that one all the time. I always match my manicure to my pedicure. Sometimes in pre-fall I'll switch it up with a deep rose. 
BBJ: What's your me-time indulgence? 
AL: Multiple junk-y mags and a manicure and pedicure. 
Thanks so much to the epic Aerin for this incredible interview. I'm living for the Multi Color for Lips and Cheeks, the Rose Hand and Body Cream and the Lip Gloss in Sweet Pea, especially. You may pre-order from
esteelauder.com
. The collection will be on-counter in the next two weeks. 
And tell me: Are you into it? Did you feel just as gratified as I to learn that Aerin also enjoys a gossip rag or two every once in a blue? Share all your thoughts in the comments! 
Like this post? Don't miss another one!
Subscribe
via my RSS feed.