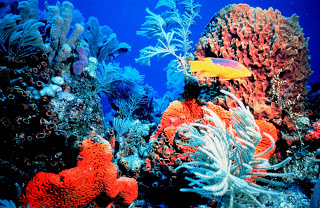 The REAL coral.
The shade you need to rock nonstop this spring? Vibrant CORAL. Coral is the best way to channel a retro lip moment when red is just too much for warmer weather. And you KNOW it'll be migrating all over your cheek by end of day in steamy climes. Coral is fresh, coral is lighter, coral is giving me LIFE–in these three iterations. Here's your spring Coral Obligation.

Clinique Long Last Lipstick in Runway Coral This hot hue was created by Clinique Global Color Artist Jenna Menard and will launch (limited edition) in May for $15 at clinique.com. It boasts buttery texture and a hot coral hue–skewing more red than salmon. It's so retro in a formerly thin Mad Men's Betty Francis way, that I feel as if we were to give it to her, she'd stop eating her feelings. It's that good. Coral sex, if you will.
Fresh Tinted Lip Treatment SPF 15 in Coral This year's answer to the "What do I keep in my purse for hydration and a kiss of color?" question. It hydrates, tastes slightly of lemon sugar and imparts a teeny tinge of medium coral–an exact hybrid of red and pink. You'll want to buy two. $22.50 at Sephora.com.
Clarins Instant Smooth Crystal Balm in Crystal Coral Doesn't that tube look like it's from THE FUTURE? This juicy clear coral features a plasticine clear coral balm encasing a center burst of lipstick-consistency pigment. Smooth and infused with pro-ceramides, the plant-based pigment glides on evenly and its long-lasting finish is the result of a new high-tech polymer. It tastes like everybody's favorite Gummi bear flavor (red), and gives a modern gloss-tint effect. It hits shelves this May at Clarins counters and at clarins.com for $24.50 each.
My coral fiber exercise? I love to pair coral lips with a coral blush and a cat-eye situation in either navy or grey (since the classic red lip is muted, why not mute the harsh black eye concept a few beats more subtle, as well?). What's your favorite way to don a coral lip? Tell me how you're corally sound in the comments.