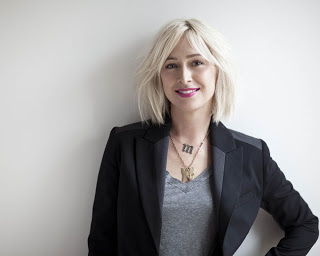 Marie Robinson, rocking her signature pink lip and uber-blonde H lights.
I recently caught up with Marie Robinson, Clairol Color Director and mix-master of magnificent hair hues about spring trends. Thinking of a change of shade? Check out Marie's suggestions.

Beauty Blogging Junkie: What are the upcoming spring trends?
Marie Robinson: The biggest trend in hair color for spring will be a soft hair color with an all-over glow including butterscotch and rose gold blondes and velvety, buttery brunettes. During New York Fashion Week in September, I colored models' hair for the Spring 2012 Catherine Malandrino and Naeem Khan runways and found these shades effortlessly complemented the variety of fashions and skin tones on the runway! To achieve these looks at home, I recommend Clairol Nice 'n Easy Color Blend Foam in Medium Golden Blonde or Medium Golden Brown, respectively.
BBJ: What are the top 5 recommended ways to communicate to your colorist on how to get them?
MR: 1. Be upfront with your hair's history. The number one piece of advice on shade selection – for both women coloring in the salon or at home, is to take their current shade into consideration when selecting the right shade. That also means taking the current state of your hair into consideration. Hair that has become very porous due to too much heat styling or the impact of environmental elements, might not hold the color as well as you'd like
2. Bring a visual. Spring and summer trends are all over the pages of our favorite fashion magazines. When you come across a look you love, bring the picture along to your next hair color appointment so your desired look is made perfectly clear to your colorist. Sometimes the description of a hair color can look very different from the intended look
3. Trust your colorist. If your heart is set on a certain hair color, but your colorist doesn't think it's the right fit for you, go with their recommendation. They're the experts on ensuring your hair color shade complements your skin tone and lifestyle and will always guide you in the right direction
4. Speak in terms you understand. Don't try to learn "salon" lingo before your next appointment. Do your best to explain your desired hair color change with terms you understand and your colorist will easily catch on and help you achieve that look. As I mentioned in tip #2, visuals go a long way to helping you get that perfect shade! If you're at at-home hair color user, call your favorite brand's hotline for expert shade advice so you know just the right shade to pick at the store!
5. Ask about your hair color maintenance. Spring and summer usually means extra washing, sunshine and chlorine – three major things that can contribute to your hair color fading faster. Ask your colorist about ways to help prevent the fade (think: hats, deep weekly conditioners, rinsing out chlorine with regular water)
Like this post? Don't miss another one!
Subscribe
via my RSS feed.