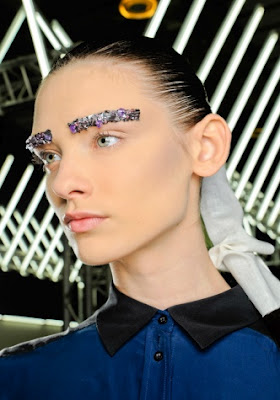 Bedazzled brows created by Peter Philips, Chanel's creative director of makeup sparkled as the models glided down the runway during the Chanel Fall 2012 runway show in Paris.
Per Vogue.com: "Three weeks ago, [Lagerfeld] sent a quick sketch," Peter Philips, Chanel's creative director of makeup, said backstage. "It was a sort of impression, with lots of blush and stones floating on the face. I wanted to translate it into something that would look great on the girls. Contemporary and a little bit military—a kind of strong textural element." He began dreaming of graphic arches made entirely of real, twinkling stones—but with 67 girls walking in the show, "I knew I didn't have time to sit and [glue them on] one by one," he said. Searching for a solution, he called his friends at Lesage—the storied French atelier now owned by Chanel and responsible for its legendary embroidery work. Together, they fashioned a pair of slim, rectangular fabric strips that could be pressed on with one simple gesture.
I think it's totally fierce. Clearly not for every day, but WHERE have rock-embroidered brows been all my life for a runway moment? What do you think?
Like this post? Don't miss another one!
Subscribe
via my RSS feed.