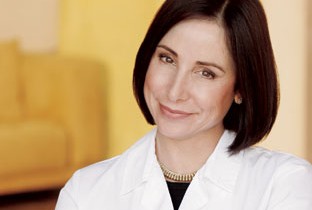 The Skinterrogation column is a new feature on BBJ! Here, I post Q&A seshes with major movers and shakers in the skin care industry. 
You'll probably recognize Dr. Ava Shamban from ABC's "Extreme Makeover," though this skintillating gal's got much more on her resume than that. The author of "Heal Your Skin" and owner of Ava MD Santa Monica and Ava MD Beverly Hills, she's a Board Certified Dermatologist with over twenty years of experience treating skin. While working on "Extreme Makeover," she had a limited time to get people looking their best. By using a combination of innovative techniques in an accelerated time frame, she was able to clear acne, rejuvenate aging skin and ease acne scarring in as little as two weeks! Realizing that not everyone was able to have an "Extreme Makeover," she developed a formula for combination treatments available in both of her offices. Dr. Shamban has extensive experience in the use of the latest lasers, radiofrequency, and injectables. Dr. Shamban is also an Assistant Clinical Professor of Dermatology at UCLA.
I recently had the opportunity to ask her all manner of pressing skin questions about her work on groundbreaking new injectable LAVIV, among others. So without further ado, here's Dr. Shamban's Skinterrogation.

Beauty Blogging Junkie: Tell me a little about your background! When did you realize you wanted to be a dermatologist?
Dr. Ava Shamban: I was originally a general practitioner and decided to become a dermatologist when I began seeing so many patients with untreated skin conditions. I did lab research on skin diseases that involved collagen and elastin, two of the major proteins in skin, as a fellowship and then went into private practice.
BBJ: What's the most exciting thing that's happened to you in the course of your career?
AS: Doing the dermatology for the show Extreme Makeover. I had to figure out new techniques and combinations of procedures to get predictable results in an accelerated time frame.
BBJ: LAVIV sounds truly groundbreaking in the world of injectables.  It's the first and only iteration that's FDA-approved. What initially drew you to want to work with the brand?
AS: LAVIV is the first biological treatment for wrinkles that uses your own collagen producing cells (fibroblasts) to replace lost or damaged collagen. Having worked with these cells in the laboratory during my research years I was really excited about their potential to rejuvenate the skin and eliminate wrinkles.
BBJ: Tell us about your own skin care regimen.
AS: I apply an anti-oxidant mist and then a sunscreen in the AM, at night I alternate between a retinoid and an AHA, then layer on my peptide-ceramide cream, Extreme Specialist.
BBJ: What is your desert island skin care product?
AS: I guess I would have to say a moisturizing sunscreen with antioxidants! It can be used twice a day.
BBJ: Beyond skin care, are there any buzzwords we should keep an eye out for when shopping for makeup if clogged pores are a concern?
AS: Mineral oil, Lanolin and isopropyl are all active ingredients used in foundation and can trigger acne by blocking pores. Some makeup foundations, powders and concealers can also clog pores and tend to aggravate acne prone skin. Look for oil-free, and non-comedogenic products. However, I cannot stress enough the importance of a proper skin care regiment for preventing clogged pores. Daily cleansing and exfoliating with the appropriate products for your skin-type and regular cleaning of brushes and sponges will assist you in your goal for clean and beautiful skin.
BBJ: What are your three best skin care tips for all skin types?
AS: My 3 tips for any skin type are always to: cleanse and exfoliate, moisturize, and always protect your skin with sun block!
BBJ: Tell us a little about the skin-healing program combining skin care, nutrition and fitness you discuss in your book, Heal Your Skin.
AS: Diet, exercise and a proper skin regiment are interconnected in promoting healthy skin inwards and out. A healthy diet and healthy skin are closely linked and a nutritious diet provides the nutrients that are necessary for your skin's cells. The best advice I can give with regards to a healthy diet is eat a balanced meal, avoid processed foods, eat foods that promote anti-inflammatory agents like almonds, fish with omega-3, fruits with anti-oxidants such as berries, healthy oils, and plenty of water. Good nutrition acts as a supplement to your daily skin regiment and lends support and promotes healing and skin repair. Exercise is the third part of this equation and as we know, has many positive effects on our skin. It reduces stress, enhances circulation, improves nutrient delivery to skin cells, and can even modify hormonal shifts. All three components work together hand in hand to directly improve the health and appearance of your skin.
BBJ: What are your thoughts on scrubs/exfoliation? Do you recommend physical or chemical at-home scrubs/peels?
AS: I think scrubs and exfoliation are important parts of a skin care program but need to be tailored to the type of skin you have as well as specific skin issues.
BBJ: What do you recommend to lighten age spots and acne scars to even skin tone?
AS: Use a product that includes hydroquinone or arbutin, these will prevent new pigment from forming, combined with an AHA to exfoliate off the existing pigment. This will work with dark acne scars. Indented acne scars need filler or laser treatment for correction.
Thanks, Dr. Shamban!
Like this post? Don't miss another one!
Subscribe
via my RSS feed.