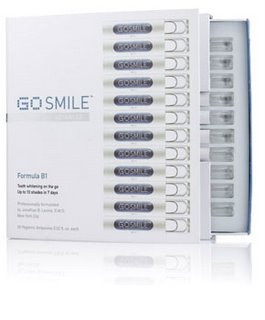 Let's just have a day of oral health products, shall we? Many comment on my very white teeth. Funnily enough, I drink a surplus of red wine, coffee and just generally do things that people who are concerned with teeth-whitening do not do. Except use a strange amount of products. Here are 4 steps to whiter teeth.
1. Invest in a Sonicare toothbrush. You won't be sorry. They're sold at Target and online.
2. If you are willing to part with some dough, get GO Smile Advance Formula Whitening on the Go. I only used about half the package a year ago, and I definitely saw the difference. It's sold at Sephora and costs about $90.00.
3. If you aren't willing to part with that much dough, pick up some Crest Whitestrips at your local drugstore. It's not as good for sensitive teeth (read: no more brushing with cold water and inhaling ice cream), but costs about $30 and does the job.
4. Brush several times a day. In all honesty, I brush literally about 5-7 times a day. Use a whitening toothpaste each time.
Good luck!