Some of the Calypso confections at the new boutique!
Just when you thought the expertly edited selection at Calypso St. Barth couldn't get any more magnif, the brand will open a dedicated accessories boutique at 280 Mott Street on Saturday, November 19th.  This morning, I attended a press preview for the shop and nearly died of sparkle envy. The bracelets, scarves and glittering shoes look like sick finds from an unforgettable vaca somewhere far flung. "We've curated a unique assortment of jewelry, bags, cold weather accessories and giftables that represent the spirit of the Calypso St. Barth lifestyle," says President, Stefanie DiRienzo Smith.  Read on…

These shoes stopped me DEAD in my tracks.
The boutique is tucked away on Mott Street in a former speak-easy that still boasts a secret door (!) (the only thing better than a dumb waiter is a secret door) and the original façade. Once inside, you'll see a custom made armoire, a floating tufted poof and a brass vanity, all adding to the dream closet vibe of the store.
At the Calypso St. Barth accessories boutique, you'll find one-of-a-kind pieces and collectibles from around the world, such as:
-Nada Sawaya's one of a kind snakeskin clutches and handbags ($850-$3,650)
-Lena Skadegard's freshwater and baroque, one of a kind, jewelry ($75-$1,800)
-Wayuu Tata one of a kind cotton bags with serial numbers carved into the wooden ring, benefiting indigenous artisan women in Venezuela and Columbia ($180)
-Glamourpuss fur scarves and hats ($225-$995)
-Corelia Leets earrings and charms, curated for us, in Paris ($125-$675)
-Stationery and calendars from russell+hazel ($30-$45)
-NMBR NINE, one of a kind, snakeskin iPad cases ($249)
-Cleobella hand embellished, sequined boxes from Bali ($85 for set of 3)
There are also Calypso St. Barth seasonal must-haves including:
– The Pom Pom knit beanie hat with a rabbit fur pom pom ($65)
– The Loop Funnel rabbit fur neck scarf ($95)
– The Sola – a wide brim felt hat with a metallic band accent ($95)
Lastly, hit up the opening party on Sunday, November 20 featuring blogger Man Repeller, Leandra Medine.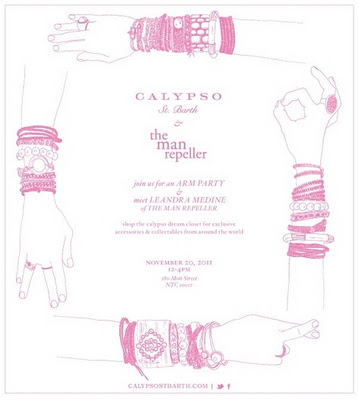 From noon until 4pm, swing by the shop for onsite styling, giveaways and more.
Like this post? Don't miss another one! Subscribe via my RSS feed.