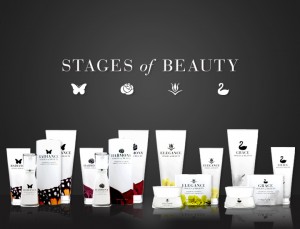 Though most skin care ranges are categorized according to concern, Stages of Beauty, a new line that launched this January, takes a different approach. Creator Jasmina Aganovic, an MIT-trained Chemical & Biological Engineer (and Fresh and Living Proof alum) saw that few brands actually catered to all of our skin's anti-aging needs throughout life. You can count on biological changes to occur, but most skincare brands fail to consider age in their formulations. And our skin may not be getting the vital nutrients it needs as we progress through life.  Enter Stages of Beauty, which has figured out exactly what our skin needs in our 20s (Radiance), 30s (Harmony), 40s (Elegance), 50s (Grace) and beyond. In short? It DELIVERS, like Cliff Clavin of Cheers fame. For the review and how to enter, read on…

Cliff's on the left.
In each system is a "core" of must-haves for every age which include moisturization and cutting-edge delivery technology to ensure the ingredients get to where they need to be. Each system is composed of three products: a cleanser, scrub and treatment cream.
Radiance in your 20s provides environmental protection
Harmony in your 30s  provides deep hydration and helps deal with beginning fine lines and wrinkles
Elegance in your 40s the skin begins to thin and become dryer, leading to a loss of elasticity. There is also an increase in sensitivity, as demonstrated by more freckles, sun spots and spider veins
Grace in your 50s and beyond provides overall hydration and calming properties to help skin regain its elasticity, tone and firmness, in addition to anti-aging benefits
I've tested the Harmony line and found it doesn't clog my pores, boasts an elegant texture, isn't too fragranced, and keeps my skin hydrated all day, even in crisp weather. My favorite thing to do is say the word "Harmony" the way Anna Faris' character does in The House Bunny. Behold (at 1:15):
Stages of Beauty has agreed to sponsor a giveaway for one BBJ winner to win a set of products appropriate for her age! To enter just leave a comment telling me what you'd like to see more of on BBJ. The giveaway ends at midnight Friday, November 4 ET.
To gain additional entries:
Like Beauty Blogging Junkie on Facebook
Become a follower on Twitter  of @Glambr
Tweet Follow @Glambr & RT to win @StagesofBeauty products http://ht.ly/7cqKN
Follow Stages of Beauty on Facebook
Follow Stages of Beauty on Twitter
Good luck, gals!
Like this post? Don't miss another one! Subscribe via my RSS feed.