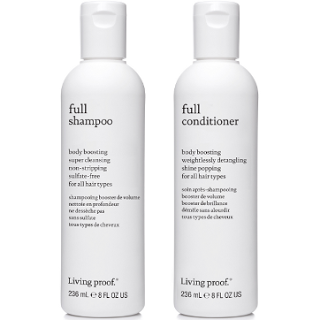 Holy grail product alert, friends.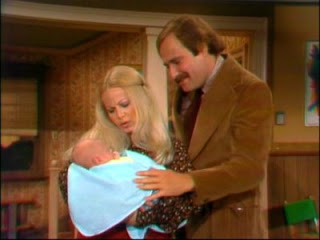 Gloria Bunker Stivic and her glistening locks with Meathead and baby Joey.
Living Proof (who can do no wrong, in my very profesh hair opinion–I have yet to meet a product of theirs I don't love) have knocked my proverbial socks off with their new Full collection. The line includes a sulfate-free Shampoo, Conditioner and Root Lift Spray to compliment their Full Thickening Cream.
First, let's discuss the results. I, mind you, have fine hair–I have a decent amount, but it's by no means thick hair. Living Proof's Full line gives you ALL THIS HAIR. Seriously. There's a WEIGHT to it. Gravitas, if you will. It feels heavy, ample. Like pin-up hair. Like they've somehow smuggled an invisible Orlando Pita into the bottle. After blow-drying and using all of the products in concert, I seriously glanced in the mirror and saw hair that resembled that of my very first hairspiration—Gloria Bunker Stivic of All in the Family fame. I remember watching reruns of the show with my brother (one of the few we both enjoyed, which was nice–because even if I didn't enjoy it, we'd still have watched it) as a young tot and falling CRAZYPANTS (as my gal Andrea Lavinthal says) in love with Sally Struthers' baby blonde shimmering mane.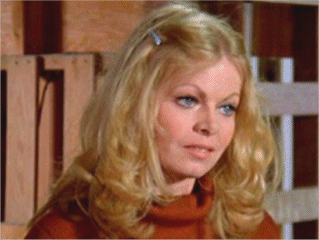 More Gloria Bunker Stivic
The primal issue about thickening conditioners, which even Meathead could anticipate, is that if they take care of frizz and moisturize, surely they don't plump hair up. Or vice versa. In fact, I've been known to toss them right out–until Living Proof, none worked for me. The very stuff that allows them to hydrate is inimical to fullness. Well, good thing the MIT-educated team in place at Living Proof are no meatheads. Living Proof Full Conditioner blends lightweight conditioners to add strength, softness and shine. It also features PolyFluoroEster at active levels for amazing detangling and smoothness without silicone, oil or heavy conditioners. It trends that line between plumping and moisturizing. It does the latter, but not so much so that you resemble Squiggy of Laverne and Shirley fame, another great show of the '70s, though not from a follicular standpoint, per se.
The Living Proof Full Shampoo's sulfate-free formula still boasts a robust lather. The brand included, once again PolyFluoroEster (can someone buy me a bunch of that for my birthday? THANKS) which helps for easier detangling–weightlessly.
Living Proof Full Root Lift Spray yields hair that is strong AND flexible. How? With a unique blend of resins, never before used in a root lifting spray. The cocktail is strong enough to provide long lasting lift, yet flexible enough so that the lift won't collapse throughout the day. The scientists also discovered that adding PolyfluoroEster helps protect hair's volume by reducing surface tension for an even deposition of the resin film, which also blocks humidity. It's nothing short of magical, my glamrades.
I plan to re-buy this line, friends. I'll DEFINITELY want spare bottles of this on-hand at all times. The Living Proof Full line will be available at Sephora, QVC and Livingproof.com in September 2010. The Full Shampoo & Conditioner will retail for $24 each, $10 each for a travel size. The Full Root Lift Spray will retail for $24.
Disclosure: Samples were provided for editorial consideration
Like this post? Don't miss another one! Subscribe via my RSS feed.