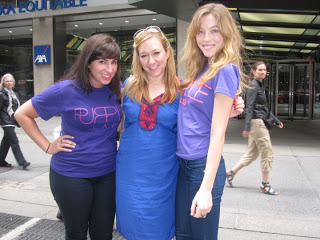 On Monday evening, I was given an exclusive opportunity to join Purple Lab creatrix Karen Robinovitz and her team of tireless interns on a genius guerilla kamikaze-makeover marketing mission by the Sex and the City 2 premiere red carpet!
The interns donned cigarette girl trays and approached ticket holders in line for the premier to offer them Purple Lab makeovers while they waited. Because how can you watch Carrie reunite with Aidan and not have a smoky eye to go with it?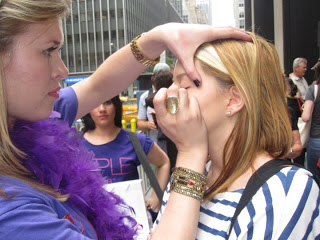 Moviegoers were touched up courtesy of interns Eve (pictured, above, with myself and Purple Lab intern Melissa) and Ashley (pictured, right) using an array of Purple Lab products including Cheek Implants, Lashionista Modelista and Huge Lips Skinny Hips. The team also outfitted red carpet gawkers and ticketholders with Footpetals inserts and ring pops.
Both lucky ticketholders and gawkers were utterly grateful for the snacks and sole savers! 
Will you see the movie? I'm taking in an advance screening tonight and am counting down the minutes, though I don't have super-high expectations. Obviously I'm most psyched to see the hair, makeup and FASHION.
Will report back after I've seen it!
Like this post? Don't miss another one!
Subscribe
via my RSS feed.