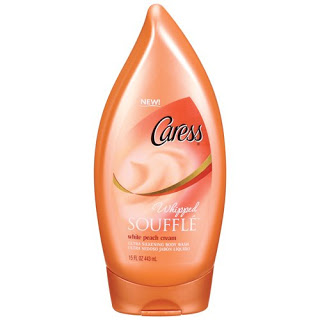 The new Caress Whipped Souffle Body Wash in White Peach Cream boasts a creamy decadence that belies its $3 price tag. I first got involved with this peachy sweet-smelling treat at its launch event at Sweetiepie in the West Village.
Just how decadent is it? Well, its consistency makes me feel like listening to Enigma's Sadeness with a wind machine while posing in front of some especially flattering backlighting. Its texture is exactly how you'd imagine a souffle translated into a cleansing cream would feel. It hydrates with an intensity you wouldn't expect from such an inexpensive iteration–without leaving an oily feel behind. My normal skin felt moisturized enough to skip lotion–though dryer-skinned ladies may want to follow up with a dose of it.
If you're at the drugstore after a particularly horrendo day at work, this is an excellent way to pamper yourself with an indulgent beauty treat, while ensuring wallet-friendliness.
The Caress Whipped Souffle Body Wash comes in Blackberry and White Peach Cream.
Disclosure: A sample of this product was provided for editorial consideration.
 Like this post? Don't miss another one!
Subscribe
via my RSS feed.