This weekend I spent far too much money at American Apparel. Their stuff is SO useful, that it's hard to feel guilty (despite my inherent Jewish-ness). I know I'll live in every single thing I bought. Check it:
Sleeveless Tri-Blend Pleated Pocket Dress ($36)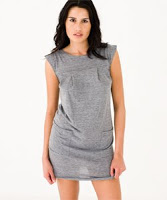 I'm going to pack this on every weekend getaway I take this summer. It's lightweight, totes flattering, and comes in my fave color, grey. I like that it's classified as a dress, but it's so casual in its gym class heathered grey coloring that it can't be taken too seriously.
Unisex Sheer Jersey Short Sleeve Deep V Neck ($22)You simply can't have too many AA Deep Vs: I just added white to my collecsh after wearing my red and grey ones ad nauseum. The deep V is super flattering.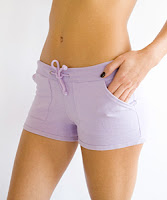 California Fleece Pocket Shorts ($28) I bought this pair of grey fleece shorts from Old Navy in the 90s and I was DEVA when the finally, the waistband got too stretched out for wear this year. I was happy to see AA had a phenom selection of sweatshorts at my neighborhood store (23rd Street between Park and Lexington) and picked up this little number in lavender as well.