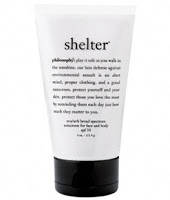 Oh, hey girls!
I missed you so; let's never be separated AGAIN. The Bahamavention and the wedding were both EPIC. As was the birthday. I celebrated about five times thus far AND I'm having a party on Thursday. I don't think I celebrated this much at my college graduation.
The entire experience was very "Spring Break" as many of the wedding guests are friends. Amber, the bride, looked GORGE with her updo and her chic-as-hell Monique L'huillier gown.
On Friday, the day before my birthday, Stephanie, Dana and I were on the lazy river at the Atlantis from 10am-6pm. Have you been? It's SUPERFUN. We did the waterslides, tubed over rapids, it was glorious. Luckily, in order to avoid a tomato complexion, I'd packed my Philosophy Shelter SPF 30 for Face and Body and had just exactly enough to last my entire trip. I am sunkissed without being burnt despite hours of sunning. Love this stuff. Then, on Friday night, the trio (Stephanie, Dana, and I) headed to Carmine's for dinner where I was totes shocked when our waiter came out with a piece of tiramisu post-dins in addition to a Bahamian singer. Now, she happens to work at the restaurant, but she has a voice that's MADE for Broadway. She serenaded yours truly with "Love Lifts Us Up Where We Belong." Try to imagine the awkwardness. Gorge song… but wholely inapprop for a birthday, n'est-ce pas? And yet, totally hilar.
Saturday was the wedding day! That morning, I went over to Amber's room at the One & Only Ocean Club, just a few minutes from The Atlantis for pre-wedding primping where I gifted Amber with my Limited Edition Dior Ultra Gloss Reflect in Tinsley Pink. In case you didn't know, The Ocean Club is THE site of My Father the Hero. I'm pretty sure I quoted each scene that corresponded with each particular area of the hotel we were in. "Get real, Andre. Everybody's wearing them."

I had my hair done in Amber's room with her stylist, Debbie, whom she'd hired for the wedding. Debbie is a doll, but she didn't take my Michelle Williams 2.0 idea too seriously, though I'd even brought a pic for her ref. My hair was sort of Malibu Barbie-Flamenco Dancer: a side ponytail/cluster of curls. I was disappointed that it wasn't the look I was going for, but it looked decent. I'm glad I opted for an updo, because it was SERIOUSLY toasty at this wedding. The reception took place in a tent with some air conditioning, but not tons. I'll provide pictures soon, don't worry. In true "me" fashion, I missed a birthday shout-out from the bride herself because, as usual, I was IN THE BATHROOM. Again. Is this going to be a way of life for me, or what? Luckily, she made a second one at the end of the night, which I caught. And it has to be said: this wedding had a ridiculous amount of cute dude guests. I'm just saying.
Also? It's common knowledge that I and most of the wedding party have a serious crush on the groom's older brother (he's married with children, it's the kind of crush you simply HAVE but do nothing about.) I pretty much turn into Lorraine McFly in his presence. I can barely SPEAK to him. I've only met him a couple of times. Toward the end of the reception, lo and behold, he comes on over with a glass of champagne and wants to toast MY BIRTHDAY WITH ME. I OBV can barely handle this situation. Then, at the afterparty at the hotel bar, he insists on doing shots with us for my birthday AGAIN. I asked EVERYONE if they'd planned all this heaven-sent best man one-on-one time and they all said no. I knew Amber couldn't have arranged it; she was way too busy, you know, having a wedding and dealing with all of the stuff that goes along with it. At the afterparty, I asked Amber again if she knew who arranged this gift that kept on giving… and she confessed that it was indeed, her. Amb. Best birthday gift of my LIFESTYLE. Big kiss. Mwah.
My friend Maria, who is a veritable Latin LOVAH, was in attendance at the wedding and her hair was PHENOM. She was Island Maria. Her curls were to die. How did she achieve them? With a mousse that will be announced later this week. And just a side note: I especially love to hang out with Maria because we get to sing all the Maria songs. You know. West Side Story, that one by Sanatana, etc. What's more fun than that? This girl was born to be serenaded. Maria rocked an especially lovely blue dress and looked divine at the wedding.
Last but not least, Wyclef Jean was on our return flight home! I'm exhausted, so it's off to bed for me.
To Amber and her fabulous husband Andy, I wish you all the best. xoxo