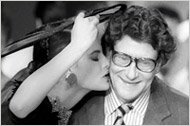 I was so saddened to learn of the passing of Yves Saint Laurent yesterday. He died in his Paris apartment at the age of 71. YSL was one of the most incredible designers of the 20th century and dressed such fab clients as Catherine Deneuve.
YSL's makeup line was my very first foray into uber-prestige makeup. I was introduced to the fabulousness that is YSL makeup my freshman year at BU and would make frequent trips to the Saks Fifth Avenue's YSL counter at the Copley store.
Said Yves, "My small job as a couturier is to make clothes that reflect our times. I'm convinced women want to wear pants."

Photo credit: NY Times
Click here to enter Total Beauty's contest to win a Saturn Vue Hybrid.