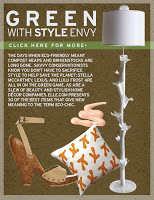 In honor or Earth Day, check out these stories on ELLE.com:
Click here to see what eco-chic brands made it into ELLE's list of 30 "Green with Style Envy" feature.
Click here to learn which beauty products ELLE's beauty department have given green stars.
Click here to read about holistic beauty for dummies.
For more green features, check out the rest of ELLE.com's Earth Day coverage here.
Photo credit: ELLE.com