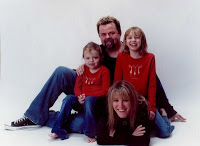 This story breaks my heart.
Northeast PA 1st grader, Meadow Quinn, needs to raise $70,000 to pay for a feeding clinic program at Children's Hospital of Philadelphia. Meadow Quinn has a disease called Neurofibromatosis. She has several inoperable tumors and has been fed through a feeding tube since she was 18 months old. The feeding clinic requires a 4 week stay will help her to learn to eat like any other 7 year old. But most tragically, her insurance company won't pay for it.
So far $42,000 has been raised. Would you like to help? Then please take a look at the ebay auctions Shannon from A Girl's Gotta Spa has generously set up to raise the funds. Click here to learn more about the auction on Shannon's blog. Included in the auction are some Heatherette for MAC goodies, NARS cosmetics, Elizabeth Arden, and more.
If you would like to make a direct donation to Meadow Quinn, you can do so via sending a check to the following location:
Wallenpaupack North Primary
c/o Becky Schaepe
158 Atlantic Avenue, Hawley, PA 18428