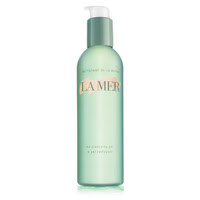 This gem of a face wash is the perfect marriage of two of my fave things: La Mer and tourmalines.
Ideal for normal to oily skins, this mix of magnetized tourmaline and La Mer's exclusive Deconstructed Waters™ removes makeup, dirt, oil and debris with minimal rubbing. Oil-free non-detergrent formula combats extra sebum while keeping your moisture barrier intact. Unfortch, tourmalines tend to come with a hefty price tag. This one is $65. Worth the splurge, however, for the fresh green spring-like scent. Get some here.
Photo credit: cremedelamer.com
Update your bookmarks to http://beautybloggingjunkie.com
Have a minute?
Take the BBJ week-long feature poll.
Take the BBJ demographics poll.
Take the BBJ LOST coverage poll.
src="http://pagead2.googlesyndication.com/pagead/show_ads.js">