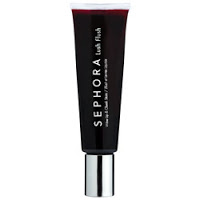 I LURVE a stain. Sometimes a product comes along that I enjoy so much, I instantly run out and buy THREE for fear it will be discontinued or that I may need extras in the event of some kind of beauty famine. Sephora's Lush Flush is one such item. I'd give it a 10 on the TotalBeauty scale. That rating is reserved for VERY special products. This one makes the cut. The packaging is phenom and innovative. It looks like a squeeze tube, but in fact turns out to be a sponge wand! This amuses me to no end. I like to open it in front of fellow beauty junkies just to see their reaction. It's such a packaging fake-out. Also? This stain is the only one I've found that looks just as good on cheeks as it does on lips. I'm usually resigned to use one only on one or the other. And the wand/gel situation makes it SO MUCH easier to store and deal with. I never have to worry about opening it upside down. My entire makeup bag is stained due to the many tints its housed throughout its time. Even my passport is bright pink because I used to keep it in a drawer where I stored my Benetint. Lush Flush, I adore you. At $10, I have no problem purchasing you in multiples! Speaking of blushing, how about Client 9 Eliot Spitzer? How do these disgraced wives stomach standing by their scumbag husbands at press conferences? Someone explain THAT to me.
P.S. I met up with Daneen, who was in town on biz last night for a glass of wine and checked out a stain she recommends, Stila Cherry Crush. I didn't give it a full test-drive, but I smelled it and the scent. is. divine. I'm def going to have to make a purchase.
Have a minute?
Take the BBJ week-long feature poll.
Take the BBJ demographics poll.
Take the BBJ LOST coverage poll.
src="http://pagead2.googlesyndication.com/pagead/show_ads.js">