The most whorish example of my promiscuous lack of brand loyalty is with shampoo and conditioner. I don't use the same shampoo/condish combo for more than 3 uses in a row. I find that my hair works better when I switch it up VERY often. And, while I usually try one brand's matching shampoo and conditioner at the same time, more often than not, I find that combining two different brands makes my hair look better. Samy and Terax are a phenom combo that I keep returning to.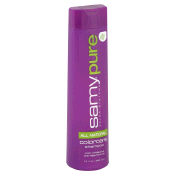 I specifically enjoy how especially clean my hair feels after shampooing with Samy Colorcare Shampoo $6 after a couple nonwash days. When I wash my hair every other day, I try to use a more moisturizing shampoo, like Rene Furterer's Karite. But if my hair's accumulated any oil (which it does after about 3 days), I use something designed to protect color, but not necessarily moisturizing. This anti-fade formula is infused with Yucca and Ginger extracts, Horsetail, Panthenol, and Vitamins A, C, and E, to condition, strengthen and nourish hair without adding wax, residue or build-up. And the fresh scent is divine. It comes in the most darling purple bottle that in retrospect, should have been included in this list.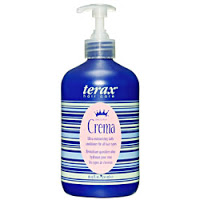 Terax Original Crema Ultra Moisturizing Daily Conditioner $22 is another gem that I was introduced to only recently, despite its cult status. Nadine Haobsh lists it as one of the beauty editor top faves in her book, Beauty Confidential. If you are a fan of her blog (as I am), you'll LOVE it. Here's her complete list, BTW. Def worth checking out. I have yet to try all of her recommendations (I'm already a fan of Essie Mademoiselle, the Shu Uemura Eyelash Curler, Lancome Self Tanner, and Kiehl's Lip Balm #1), but I'm already on my second bottle of Terax. It restores split ends and moisturizes exactly enough.
The scent, however, isn't my fave, though. To me, it smells like a rainy day (not necessarily bad) which is strange as it's actually scented with rice flower, shea, bergamot, and juniper–all of which are lovely scents. But I love the way it makes my hair look and for that reason, I'm adding it to the top of my faves list.