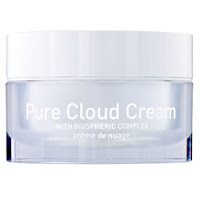 Skyn Iceland Cloud Cream delivers: after this wretched snowy week, I've been using the divinely-scented cream to calm my red, raw, flu-ravaged nose. Is that gross? Well, it's grosser to stand idly by doing nothing, friends. My nose is on its way to recovery, thanks to Skyn Iceland!
Here's the part that's more of a nightmare than a dream:
Pure Cloud Cream costs $75 for the 1.7 oz. jar. I find it difficult to throw down so much moolah for a tiny little jar. That said, its blend of aloe, oat extracts and peptides brightened my skin tone AND didn't react negatively with my iffy combo skin. It's available at SkynIceland.com, Sephora Stores, sephora.com, beauty.com, as well as other fine retailers.
Click here to read more about it on TotalBeauty.com.